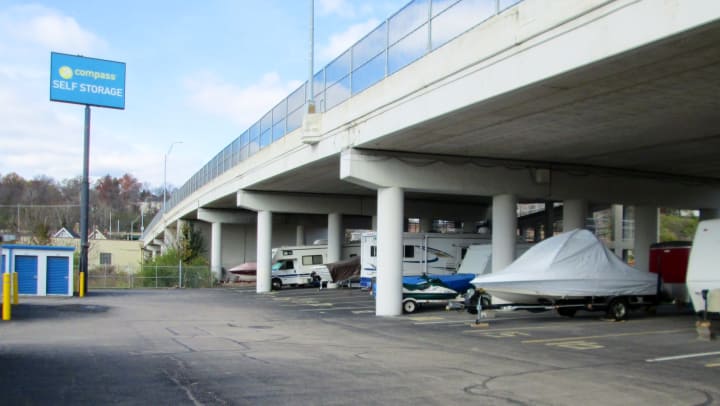 RV & Boat Storage options
Our Cincinnati self-storage units are available in a variety of sizes. Choose from ground floor drive-up units that you can access from outside, or indoor climate-controlled units. Ohio weather if often extreme and can damage electronic equipment, furniture, artwork, and other sensitive items. Our temperature-controlled units protect these items from excessive heat or cold.
Compass Self Storage in Cincinnati is located on Wilmer Court, just off Beechwood Avenue near its intersection with Columbia Parkway (State Route 50). Reeves Golf Cross is .2 miles away, and Otto Armleder Memorial Park is less than a mile away. Lunken Airport is a two-minute drive.
If you own an RV and need that space in your driveway, or your neighborhood association has banned RVs, we can help. We offer covered outdoor boat & RV storage in Cincinnati, OH so you can use your driveway space for something more important and be compliant with your community association's rules. We can also accommodate campers and trailers. We're very close to State Route 50 and State Route 52, so in not time you'll be on Interstates 275, 71, or 75, heading to your next vacation destination.
And if you're looking for boat & RV storage in Cincinnati, OH we offer covered outdoor boat storage. Our location near the Ohio River and East Fork Lake is particularly convenient for our boater clients. Access to our boat storage area is drive up, and easy.
We have several options available for car storage at our Cincinnati storage facility—it all depends on whether you want your car stored indoors in one of our ground-floor drive-up storage units, or if you're happy with covered outdoor parking. Owners of classic, antique, sports, convertible, or collectible cars appreciate the indoor options. Whether you choose indoor or outdoor storage for your car, we do recommend you cover it while it is stored, and that you lock it.
Visit our on-site rental office and store during our extended hours to find out more about our RV and boat storage options.
Cheers!
The Compass Team