Self Storage Units in East Orlando, FL
203 Neighborhood Market Rd
Orlando, FL 32825 - Due to Hurricane Ian, office hours may vary at some locations. Please call before visiting.
Storage Units in Orlando, FL – Neighborhood Market Road
When life requires you to have a little more storage space than what you have, there's no need to panic. Here at Compass Self Storage on Neighborhood Market Road, we provide affordable self storage in Orlando and back it up with our top-notch customer service. With month-to-month leases and access hours every day of the week, you can rent and access your unit on your schedule.
No storage need is too trivial or too unwieldy for our Orlando storage facility near AdventHealth East Orlando and Azalea Park. Located next to the Walmart Neighborhood Market at the corner of Lake Underhill Road and S Chickasaw Trail, we're just a few miles east of Orlando Executive Airport and west of Valencia College East Campus via the East/West Expressway.
Brand New Storage Facility in East Orlando, FL
Our storage facility on Neighborhood Market Road is ready for your storage needs, be they of the residential or business variety. This brand-new Orlando storage facility is clean, well-lit, and filled with state-of-the-art storage features that you can't get just anywhere. We have storage units ranging in size from small 5×5 storage units to extra-large 10×30 storage units, with common sizes like 10×10 storage units and 10×20 storage units in between.
Climate Controlled Storage in East Orlando
Florida heat and humidity can wreak havoc on all sorts of delicate items. Thankfully, you won't have to worry about weather damage thanks to our climate controlled storage units. Our fully indoor storage facility in east Orlando features climate controlled self storage units across our full size offerings.
Covered Loading Bay and Free Carts for Use
Moving always takes effort and planning, but when you rent from Compass Self Storage in east Orlando, we're here to make it as convenient and easy as possible. Our covered loading bays provide protection from the rain and other inclement weather, and our carts and dollies are free to use—making moving even heavy items a breeze. Plus, we have freight elevators that serve every floor.
Secure Storage Units in East Orlando, FL
Peace of mind is abundant when you rent a storage unit at our brand-new Orlando storage facility. Our fully fenced facility is protected with 24-hour video recording every day of the year. Additionally, our units feature modern security features like a motion sensor alarm and an electronic lock.
Rent Your Storage Unit in East Orlando Today
Renting a storage unit at Compass Self Storage at our brand-new east Orlando storage facility on Neighborhood Market Road means convenience, customer service, and great prices. We even sell a variety of moving and packing supplies—such as boxes, tape, furniture covers, and more—right onsite at our rental office.
When you're in need of storage, don't overthink it: rent self storage! To get started, rent or reserve your storage unit online or give us a call today! Didn't quite find what you need? Check out one of our other Orlando storage facilities near you.
Compass Self Storage is now offering remote leasing or contactless leasing. To help our team members and those looking for storage, we are working with customers over the phone to help facilitate the rental process. Our remote leasing process allows us to safely rent to our tenants, without our tenants having to come in to our rental office or interact directly with facility management. Please note, our facility management is still on site. We are able to offer a wide range of options to rent remotely including but not limited to; tenants' ability to tour the facility without management while utilizing site maps, tenants' ability to complete the rental process over the phone, tenants' ability to complete rental documents utilizing email, tenants' ability to purchase merchandise and utilize truck rental service without management interaction. We are taking advantage of technology and the use of our phones to safely walk our tenants through the entire rental process while practicing social distancing.
Non-Climate
Medium Unit
Sizes: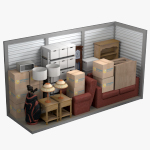 Large Unit
Sizes: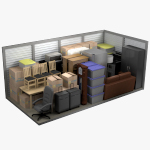 Extra Large Unit
Sizes: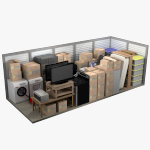 Climate Controlled
Small Unit
Sizes: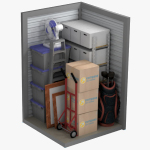 Medium Unit
Sizes:
7′ x 12′
10′ x 7′
10′ x 10′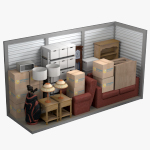 Large Unit
Sizes: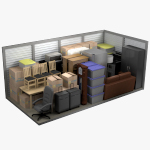 Extra Large Unit
Sizes:
10′ x 25′
10′ x 30′
15′ x 20′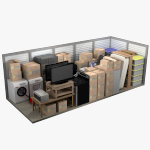 Features
All Major Credit Cards Accepted
Auto Pay
Boxes & Moving Supplies
Contactless Rentals Available
Digital Surveillance
Month to Month Leases
Online Rental Available
Secure Entry Access