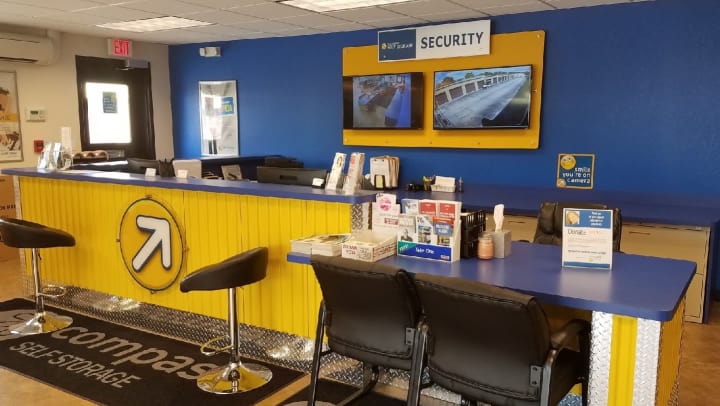 Compass Self Storage in Spring Hill is here to make your self storage experience better. We know that when it comes to self storage, you want convenience and flexibility at a great price, and we can deliver! Our impressive features include:
U-Haul truck rental
Gate-controlled access
Climate-controlled units
Ground-floor drive-up storage units
Our Spring Hill self storage facility can readily meet your storage needs, whether personal or business, and whether you need temporary or more long-term self storage. Month-to-month leases ensure that you'll be able to rent your storage unit for the right amount of time. Whether you're doing a remodel, going to live overseas, or you just need extra space in your garage or office, we can help.
With storage units available in a wide variety of sizes, some with climate-control, you're bound to find a storage unit that suits your needs. Check our online space calculator to estimate which size unit is best for you, or better, visit our rental office and consult with one of our professional storage experts during our extended office and store hours. While you're there, ask about our U-Haul truck rental program and check out our full inventory of packing and moving supplies.
Our Spring Hill self storage facility offers a variety of features designed to meet your need for convenient, flexible, and secure storage.
We offer 24-hour availability to your stored items upon request, so no matter what time of day or night you're available, you'll be able to get into your storage unit. Drive-up ground-level units offer convenient loading and unloading, just pull your car or truck right up. There are wide doors and hallways throughout our facility to make loading easier for bulky items, or for when you're lucky enough to have friends helping you. Our entire facility is mover-friendly with wide roads, doors, and halls. Our first floor building is a moving company's dream!
Month-to-month leases mean you can rent a storage unit for a few weeks, a few years, or longer! Whether you need temporary storage during a remodel or storage for an indefinite amount of time for important business documents or family heirlooms you don't use but can't part with just yet, you'll appreciate the flexibility of a monthly lease.
Security features include 24-hour gate-controlled access and a full-time video surveillance monitoring system. In addition, our self storage facility in Spring Hill, FL, is fully enclosed with a fence, and is very well lit. Fire alarms provide extra protection for your stored items.
Our storage facility is meticulously maintained. We follow a regular pest control plan and have regular maintenance checks. We sweep regularly and clean restrooms daily. Storage units are always cleaned and swept out during turnover.
In addition to offering covered indoor and outdoor self storage units, we also offer covered outdoor storage for boats, RVs, and cars.
Cheers!
The Compass Team