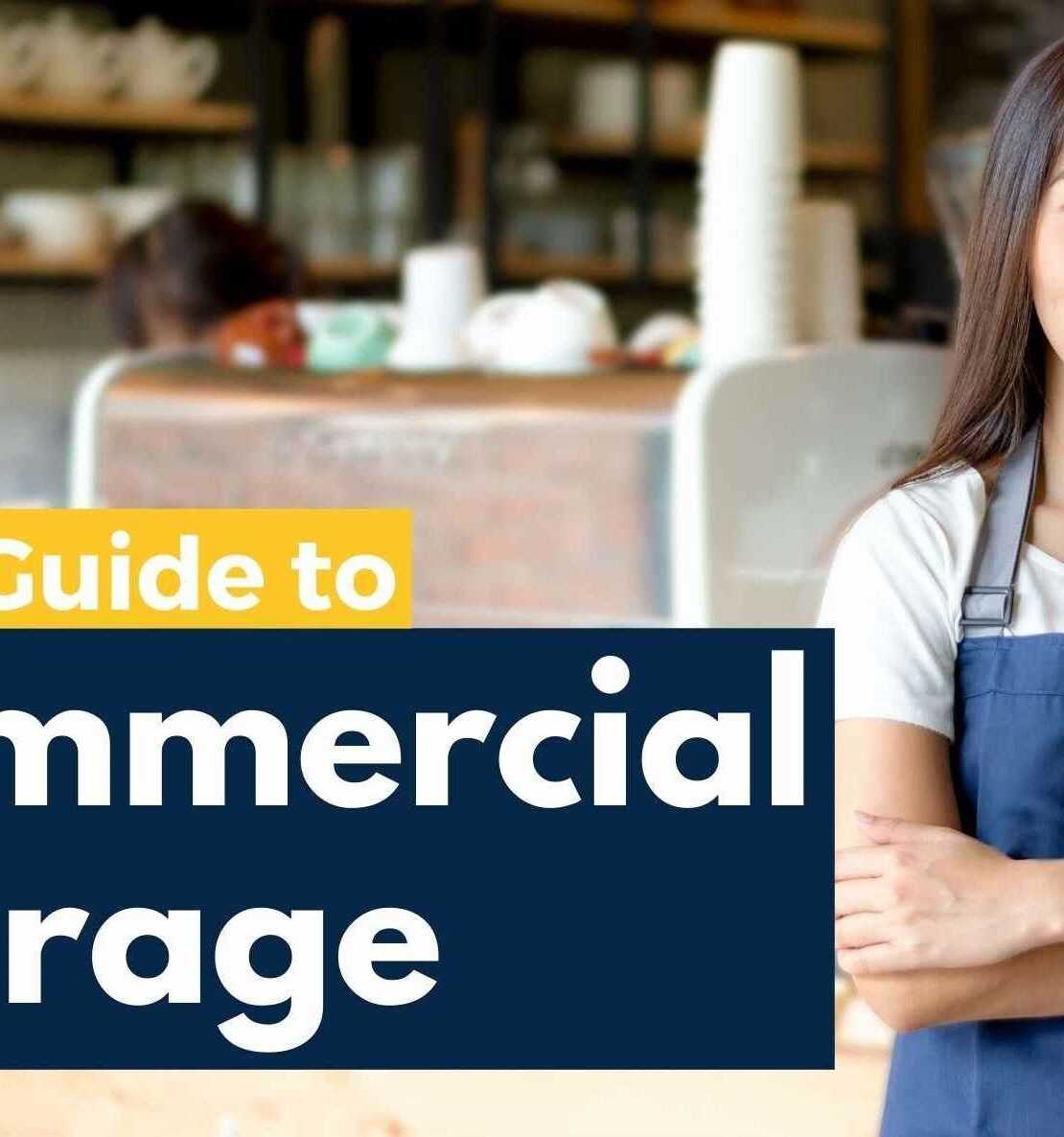 If there's one thing businesses often require, it's plenty of space. From offices to workshops and employees to inventory, any commercial enterprise will eventually require room for growth. Whether you're building a business out of your garage or have established a concrete footprint in an office park or industrial district, you may find yourself eventually running out of room. If you're beginning to consider commercial storage as a path toward expansion, you likely have questions. At Compass Self Storage, we can help you find the right commercial storage solution for your business's unique needs. Before you click the "Reserve Now" button at your nearest facility, ask the following questions to make the right decision.
What goes into a commercial storage unit?
There's no shortage of uses for a commercial storage unit. Narrowing down the actual items being stored, however, is important. Figuring out exactly what you plan to store will help determine the necessary amenities you'll need to shop for. For example, equipment storage for construction companies may differ from the storage needs of realtors. Companies looking into self storage for office equipment such as printers, scanners, copiers, and file cabinets are likely seeking different storage than event planners. Common uses for commercial storage include:
Contractors and Service Professionals
Contractors can use commercial storage for their tools, supplies, and other materials necessary to do their jobs. Plumbers, carpenters, and other construction and service professionals use self storage to keep their workshops organized and job-required items close at hand.
Photographers and Filmmakers
Lighting rigs, boom microphone poles, tripods, and backdrops can take up a lot of space in a studio or vehicle. Photographers and filmmakers can use commercial storage to save room in their cars or homes and take only what's required to the next photo shoot.
Realtors and Sales Professionals
Whether they're storing inventory samples or promotional materials—such as signage, banners, or flyers—realtors and other sales professionals can use commercial storage to keep their home offices organized and cut down on the back and forth needed to pick up supplies in between client meetings. In addition to promotional materials, realtors can also use commercial storage as a space to hold additional furniture for home staging.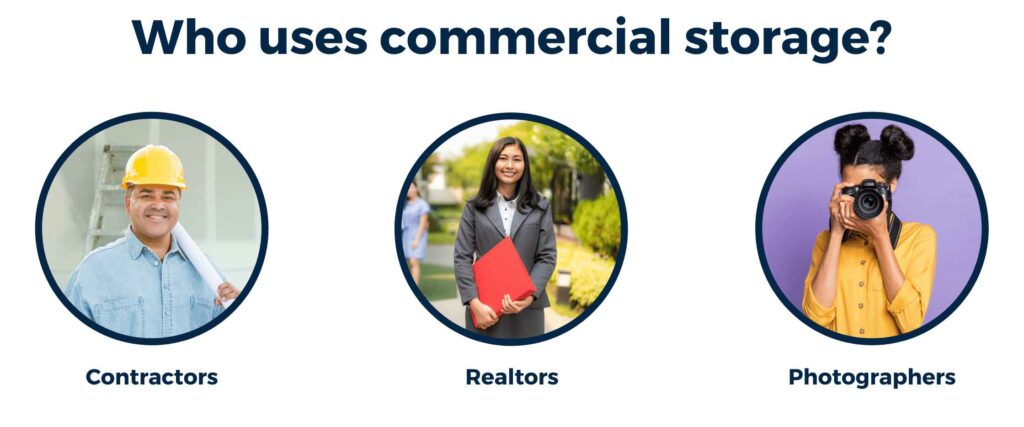 Where should I store my items?
Consider the commercial storage location, too. If you're seeking a business storage unit you'll need daily access to, it doesn't make sense to rent one across town. For businesses where appointments are made at locations around a city or region, you may want to rent a centrally located storage space to simplify picking up (or dropping off) equipment or materials en route to your next destination.
Will I need climate controlled storage?
By answering the first question, you'll probably tackle this concern pretty quickly. Climate controlled storage is recommended for items that are susceptible to extreme swings in temperature and humidity. For items such as electronics, documents, and furniture that can be damaged by moisture or heat, climate control is a must. Other businesses and professionals, such as pharmaceutical sales representatives, trust climate controlled storage to help manage their sales samples and inventory.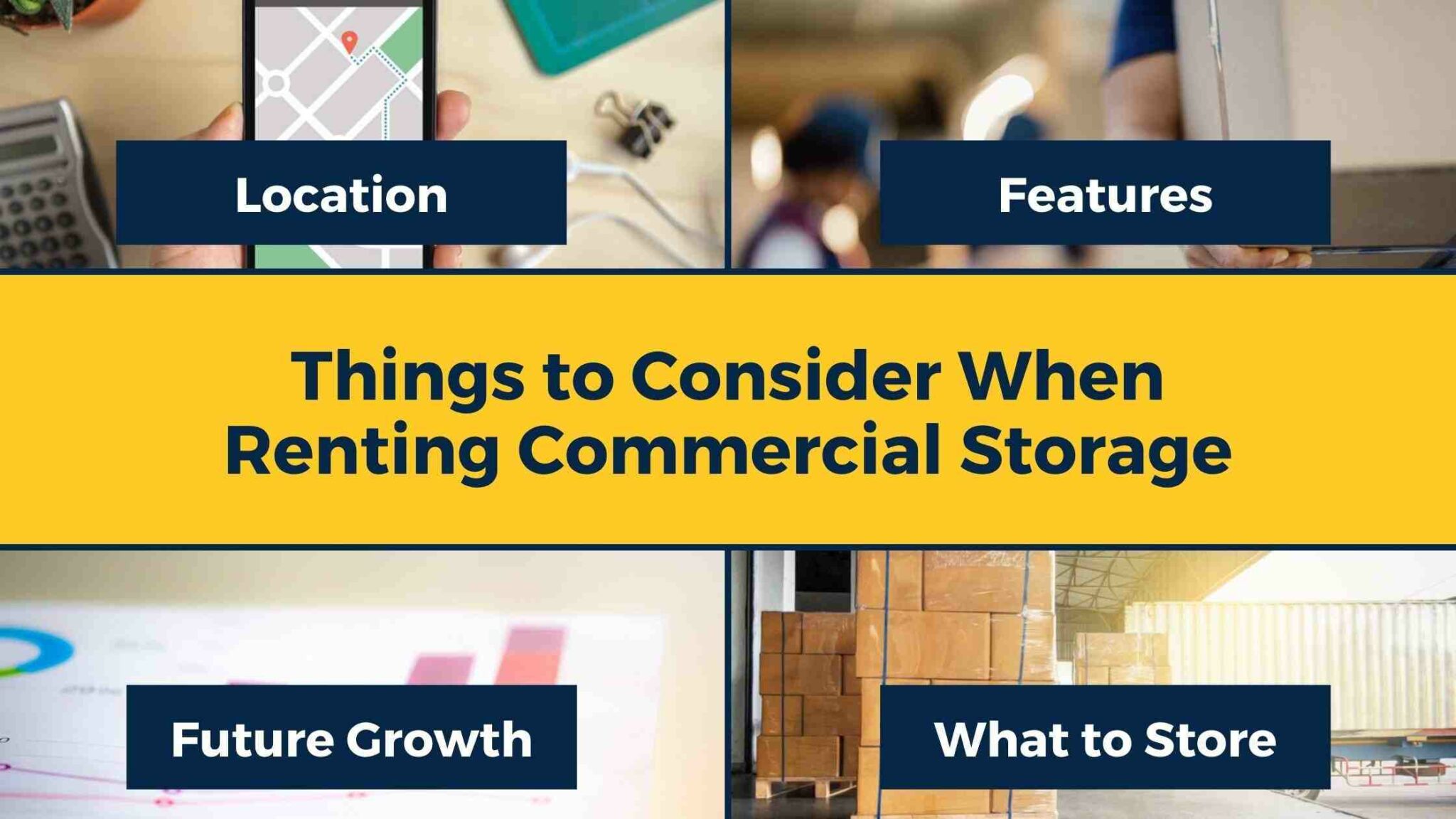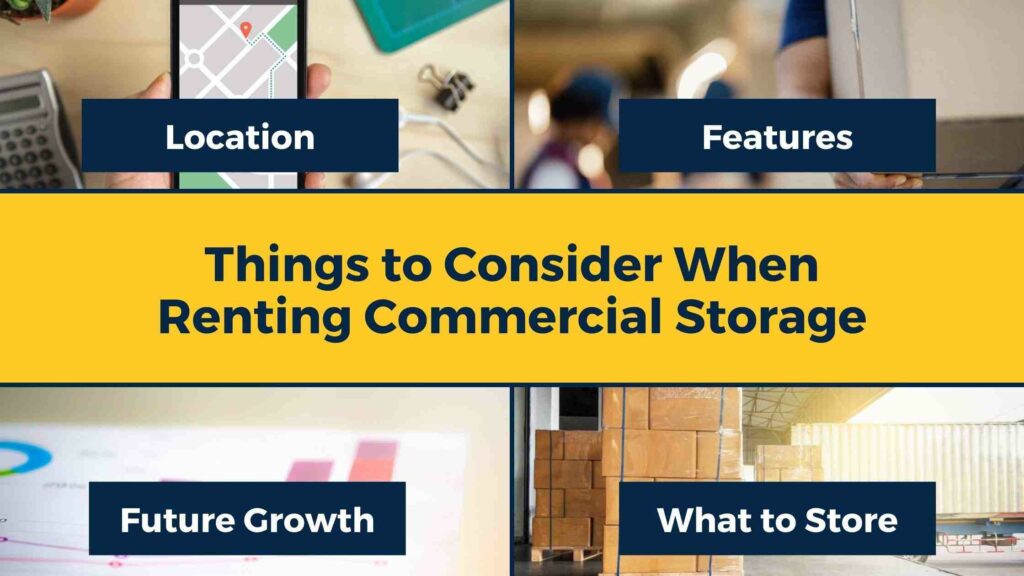 If your commercial storage needs don't include protection from the elements, drive-up storage might be better suited for your needs. These units allow you to access their contents quickly and directly unload or load your vehicle. Drive-up units are great for industrial tools that have already been built to withstand the elements, such as lawn service equipment—lawnmowers, trimmers, and even trailers.
What other amenities should I look for?
In addition to climate control, storage facilities can offer a lot of different services and amenities to streamline your commercial enterprise. Your business's hours of operation may make it difficult to get out of the office to visit your storage unit. In many cases, commercial tenants can request 24-hour access to their storage facility. For businesses that receive constant deliveries, it may be inconvenient to be present to sign for deliveries—especially if you're frequently on sales calls, providing in-person bids, or trying to drum up additional capital for your start-up. Delivery acceptance is an absolute necessity for commercial storage clients.
How much commercial storage space do I need?
Just like needed features and the items you plan on storing, determining the right amount of space is important. Do you rent the necessary space you need for only those items being stored today? Do you plan ahead for future growth and rent a larger unit for expansion down the road? As a business owner, you'll need to weigh the benefits of renting a smaller unit for cost reasons against the time investment it would require to move from one unit to another. Alternatively, you could rent a small unit today and expand through additional units later. Before making a decision, use a storage unit size guide to review what each unit holds. Nothing is worse than packing up what you need to store in your unit, only to move in partially and realize you won't have enough space.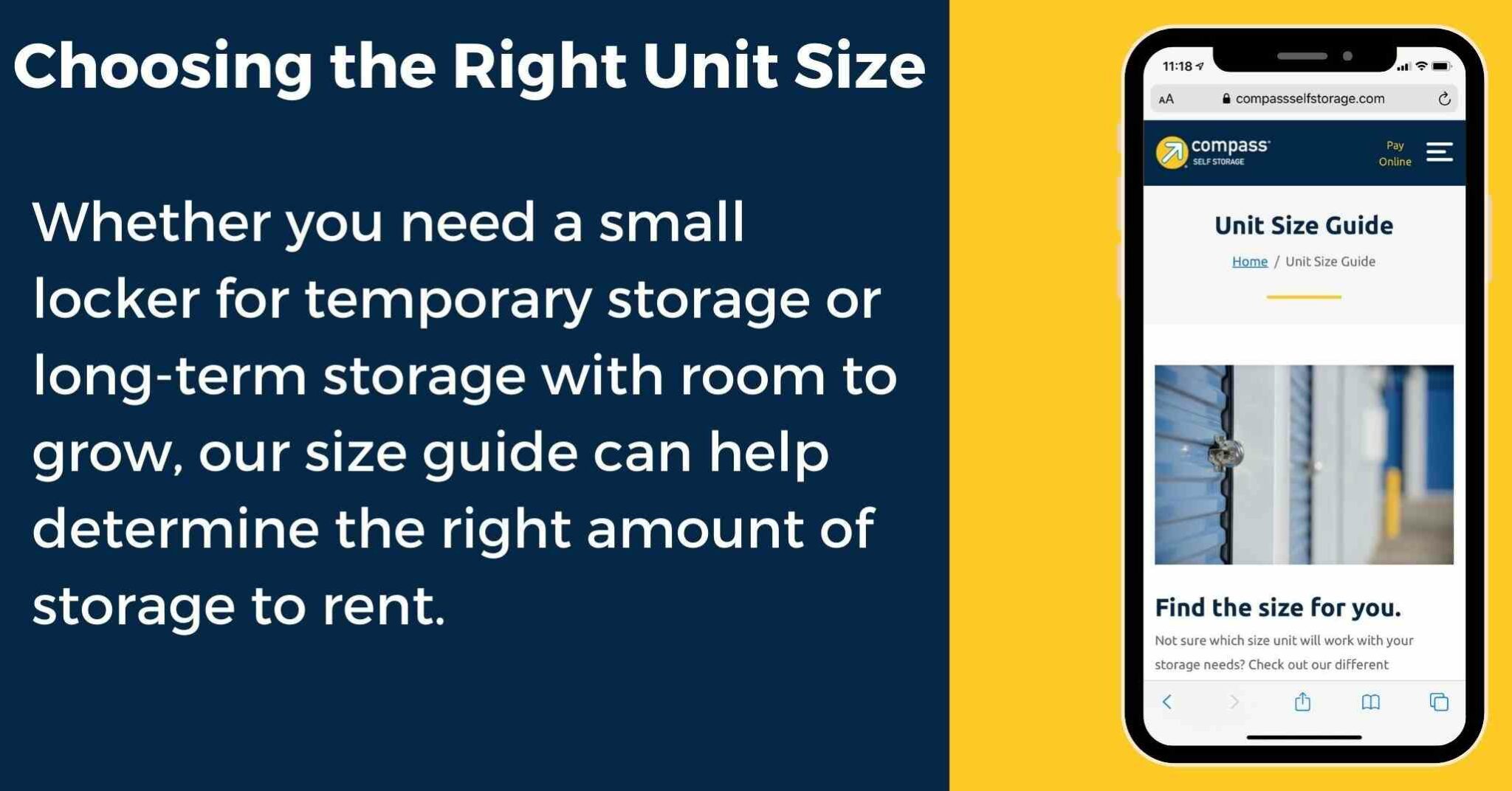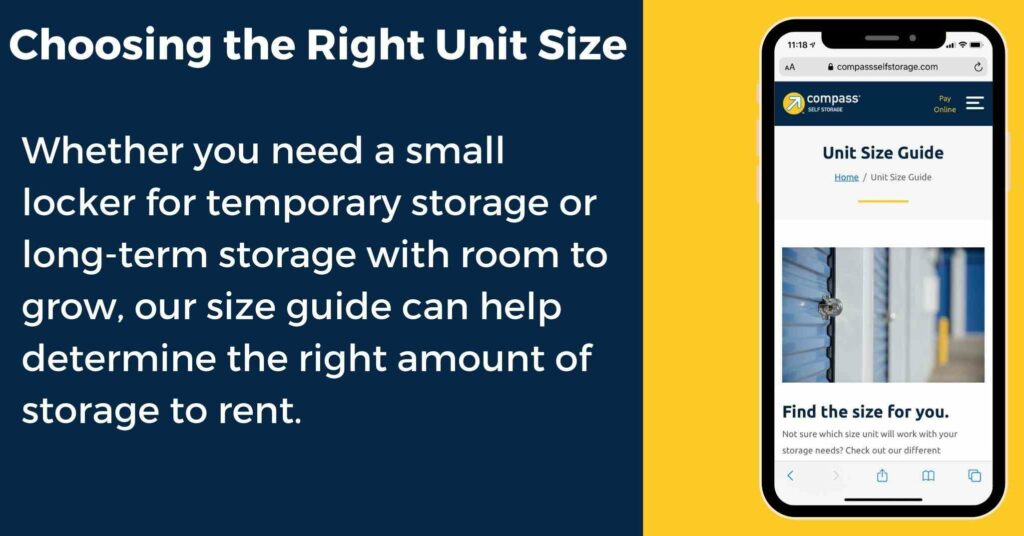 One of the great things about commercial storage is the flexibility it offers. Some storage facilities offer units ranging in size from small lockers to entire warehouse-sized units that take up an entire floor. Depending on the size of your business, it may make sense to start small and expand as you need to.
How long will I need commercial storage?
One major question about storage is just how long it'll be a necessity. Perhaps your operational capacity may be short term, or you only need temporary storage while upgrading your current facility. Maybe you're already planning on a future move. Either way, Compass Self Storage provides you with the flexibility to set your terms. Our leases are month-to-month and require no long-term commitment. Our goal is to help your business continue to run smoothly. We'd love to be a fixture of your operational success.
Consider Commercial Storage at Compass
Regardless of industry, all businesses have a footprint, and that footprint will continue to expand as you grow. Even fully remote companies will eventually require space for important documents. Inventory-based sales and retail operations will eventually run out of warehouse space. Before running out of room becomes a problem for your commercial enterprise, plan ahead.
Commercial storage space with Compass Self Storage offers the convenience, flexibility, and amenities your business needs to thrive. To get started, find a location near you. Our friendly team of storage experts can help determine the best course of action. Still have questions about how commercial storage solutions can help you succeed? Contact us today.