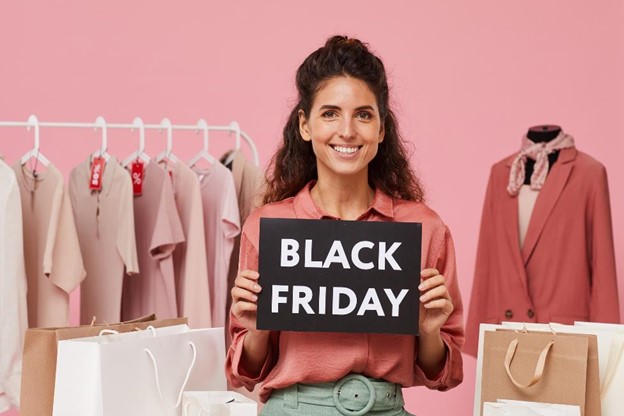 For most people, the phrase "Black Friday" conjures images of crowds lining up early in the morning and stampeding through big box stores to grab great deals on brand name items. But for many small business owners, it represents a chance to stake their claim in the retail space. As the unofficial start of the holiday gift-buying season, Black Friday drives consumers to seek products that will make their friends and family smile, without making their bank account frown.
If you have an ecommerce business, or if you've been thinking about starting one, Black Friday, Small Business Saturday, and Cyber Monday could all be opportunities to generate a lot of revenue. Of course, generating a lot of revenue means having to process a lot of orders, which in turn means managing a lot of inventory. Compass Self Storage can help you do just that. Here are some Black Friday ideas for small businesses looking to make the most of the upcoming holiday rush.
1. Get your website ready
An ecommerce business needs to have a professional-looking, user-friendly website in order to thrive. If you're hoping to bring in some customers on Black Friday, you'll need to know how to build an ecommerce website that can handle the attention or choose the best third party option for you.
Pick the right name and platform
If you're building your own website, there are multiple platforms that you can use. If you're a part-time artist or designer selling your work on the side, a website builder like Squarespace or Wix can be easier to manage. If you're hoping to grow your business into your main gig, though, a dedicated ecommerce site like Shopify will offer a more comprehensive suite of features.
Additionally, you can set up a storefront at a variety of third party managed websites. Etsy has become very popular, but there are other options too, from eBay to more niche sites geared towards specific businesses.
Make the important stuff easy to find
Holiday shopping is stressful enough as it is, so you should make sure that your site has a well-placed customer service page with clear info on shipping rates, shipping times, and your company's return policy.
You'll also want to put your best deals front and center so that people don't have to hunt for them. Put them on the front page and use a clean, simple website template that won't overwhelm visitors with too much information.
Put your site in front of people
A traditional brick-and-mortar store can get some of its business from people just wandering in out of curiosity. Ecommerce businesses may not be able to get foot traffic, but they can still attract eyeballs with something called search engine optimization. If you use popular keywords in your product names and descriptions, compress images to improve loading times, and have a good social media presence, your site will rank higher in search results.
2. Get your customers ready
Most people are busy and probably aren't thinking about Black Friday when it's still weeks or months away, but that doesn't mean you shouldn't get a head start on promoting your business. The earlier you can get your company's name out there, the better chance you have of being remembered when shopping time comes.
Grow your social media presence
A good social media presence won't just improve your search rankings. It'll also draw attention from potential Black Friday customers. Get active and creative on popular platforms like Instagram, Facebook and Twitter. Jump on a hot TikTok trend with a video that incorporates your brand or products. Organic views and interactions are great but can be hard to come by, so consider putting a bit of money towards promoting posts to get the ball rolling.
Start sending promotional emails ASAP
Email lists have been around as long as ecommerce itself, and for good reason: they're a great way to grow and retain a customer base. Build an email list by adding a sign-up form on your site, offering exclusive Black Friday discounts to people who opt in, and promoting those discount offers on social media. When you've got a healthy roster of interested consumers, use your ecommerce platform's email service to blast out promotional emails early and often– but not so often that people get overwhelmed or annoyed. And make sure those emails are fun, informative, and engaging. You're a small business, not a corporate behemoth, so let your personality shine through. It might make people more inclined and excited to support you.
3. Get your inventory ready
You've built your site and primed your customer base. Now it's time to keep your inventory safe, secure, and ready to be delivered to customers without causing massive headaches or taking up half the space in your house. Compass Self Storage's business services could be just what you need.
Pick the right storage unit for your inventory needs
Compass offers a wide range of unit sizes, from "walk-in closet" to "large garage." Whether you're selling cool little stickers or bespoke wooden furniture, you'll be able to find a unit that holds your product until it's time to ship. We also offer climate-controlled storage units so you don't have to worry about stickers peeling prematurely or furniture swelling and splintering. And if your ecommerce business has to take a backseat to your day job, you can take advantage of our long, flexible access hours.
Reserve a business storage unit today
Black Friday is coming sooner than you think, so don't wait to reserve a unit for your inventory. Find a Compass Self Storage location near you to get started.