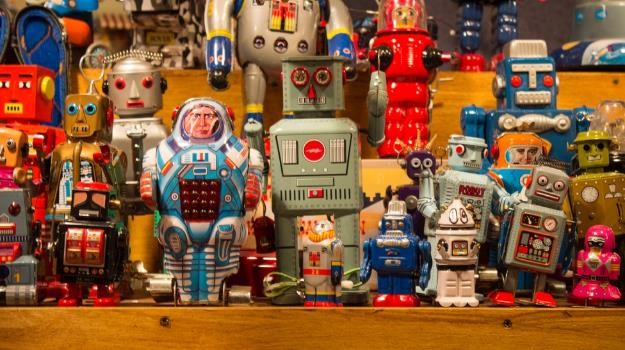 Whether you're a child of the '90s or grew up during the days of Camelot, you may have a small fortune gathering dust in your attic or basement. Collectors of vintage toys may even be looking for those inexpensive stocking stuffers from Christmases past. Whether you head to your storage unit or dig through your parents' attic, download the eBay app to see whether your childhood playthings could give your bank account a boost.
What Makes a Toy Valuable?
Sometimes, the most valuable items aren't just vintage toys; they're antiques. According to Blue Moon Estate Sales, an item must be at least 20 years old to be considered vintage. An antique is at least 100 years old. Antiques and older vintage items are often more sought after because they were made with now-obsolete materials or technologies.
Of course, rarity is also a factor when it comes to a toy's dollar value. Limited editions or manufacturing mistakes can mean an item ended up in very few hands. Limited access makes it more desirable, and collectors or nostalgic buyers are willing to pay more. Condition is also a key factor. While some buyers don't mind a little wear, you'll get top dollar if your toy is unused and in its original box.
Which Toys Are the Most Desirable?
The eBay platform began as a way for Pez collectors to connect, buy, and sell. The dispensers are still going strong, with values reaching into the thousands for rare models. Still have that Teddy Ruxpin doll from the '80s? You could be a few hundred dollars richer if it's in mint condition. Your collection of wrestling videos could be worth a ton of money; a single WWF VHS tape can fetch as much as $300. And if you spent a good portion of your millennial childhood with your nose in a Harry Potter novel, you could be in luck. If you own one of only 500 copies of the first edition, you could net five figures from the sale of your book.
The Organization Motivation You Need
If you needed a push to clean out the attic or your storage unit, this is it! Combing through your things in search of vintage toys might be well worth the time and energy. Even if you don't find valuable or collectible items, you'll have a tidy, organized space. Still need more room? Find the perfect storage unit for your needs at a Compass Self Storage facility near you. We offer clean, affordable storage in communities around the U.S.