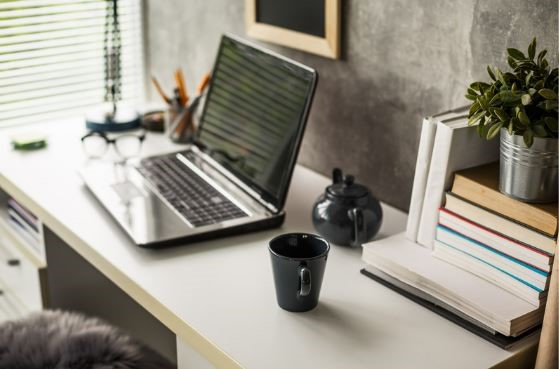 The last few years have brought on lots of change, many of us began working from home for the first time in our careers and more recently just started going back to the office. Combined with the stress of moving office spaces and dealing with a global pandemic, its normal that your office space has gone in disarray. However, having an organized office space is important for many reasons.
The Importance of Office Organization
Increased Productivity and Smooth Business Operations
When your space is tidy, it becomes easier to locate materials or important paperwork. Knowing where your things are is important as it will cut down time looking and increase time spent working. Decluttering isn't the only way to increase productivity, getting organized with folders, planners, calendars, file cabinets and more can help keep track of everything you have on the board. When all your materials have a place, business operations can run smoothly.
Reduced Workplace Accidents and Injury
Aside from the fact that getting organized makes finding what you need easier, it can also help to reduce accidents or injury. An untidy office can lead to employees rushing around to find what they need. This could lead to a slip or fall that results in an injury. Not only can bodily harm occur but valuable records, material and other information can be accidentally disposed of when lost in a mess. These types of accidents pose a serious threat to the productivity of a company. To prevent such means getting organized!
Reduced Stress Levels and Improved Creative Thinking Skills
Not only will there be a reduced risk of injury or accident but there will also be reduced stress levels when having an organized office! By reducing the stress levels, we can improve our creative thinking skills which will be beneficial to the work at hand. Stress is one of the largest factors in reducing creative thinking skills. By limiting the amount of stress we experience at work, we can help to restore those creative thinking skills. By taking the time to declutter and get organized you can reduce factors that would cause stress. During the time it takes to organize, you can take the time to take a deep breath and relax.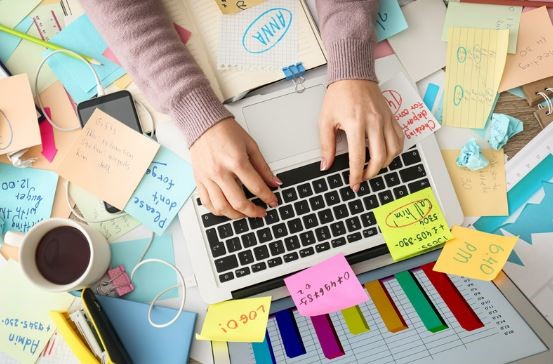 Tips
Declutter
The first step to getting organized is decluttering. Depending on the size of the space and amount of material you have, this will be the longest task. To get started, categorize paperwork and other materials into a keep or toss pile. Now is a great time to test all your writing utensils and other office materials to see what needs replacing. Once all the trash is out of the way, you can work on organizing what you have and make note of what you will need. This part is up to you, how you categorize the paperwork is dependent on your current projects and job descriptions.
Storage Pieces
There are many options when it comes to storage pieces at the office. From tradition file cabinets to more stylish, decorative pieces, there are endless amounts of choices. Having file folders and a file cabinet makes paper organization easy. Adding a paper tray and mail holders can help elevate the level of organization you need. Cord organizers can also be a huge life saver in the even that a piece of technology goes down. Office supply and department stores are great options for organizational pieces. They will have all the utensil, drawer, and file organization you need as well as additive décor options for your own personal touch.
Self Storage for Business
If you are tasked with organizing a small space, there are also numerous options for hanging storage or drawers for must have options. Still not enough space? Compass Self Storage offers business storage to many industries including but not limited to:
Retailers
Manufacturers
Pharmaceutical representatives
Educational institutions
Governmental agencies
Non-profit organizations
Whether it's an overcrowded home office or large organization, check out our unit size guide to see how we can help! Many of our locations also offer climate controlled spaces to help protect your items. Find your nearest Compass Self Storage storage facility today!