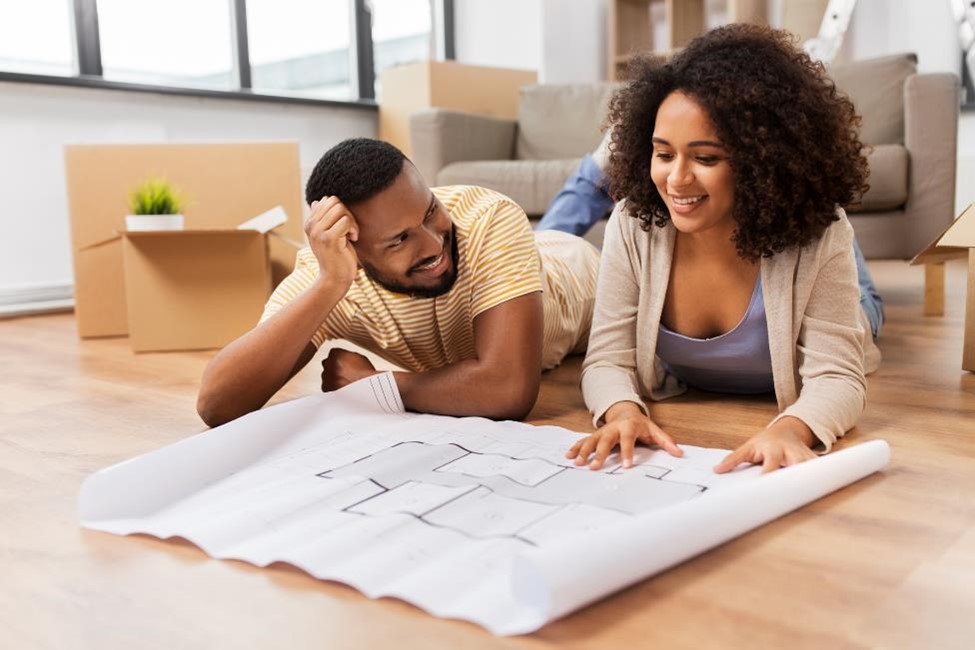 Preparing for a home renovation can be a big task filled with excitement. From remodeling your kitchen to replacing the carpet in your living room to wood, a home improvement project involves a lot of preparation. Compass Self Storage has tips on how to handle the logistics of the process, such as financing and living in your home during the project, so that you can prepare for your home improvements, and offers self storage as a helpful solution.
How to Finance Your Home Renovation Project
Before getting started on any big or small project, you will need to have a financial plan. Start with an estimate on how much money you think the renovation project will cost. If you have a contractor doing the work for you, this estimate will give you a solid breakdown of what you are paying for. However, if you are tackling the job yourself, be sure to add in any costs for equipment and supplies.
No matter which route you take, you will always want to add a bit of cushion to your total budget. Renovations don't always go exactly as planned, so it is better to be safe than sorry right from the start. Experts suggest setting between 10 and 20 percent of your budget aside as cushion in case (or when) something goes wrong.
Considering a Loan?
There are many different ways that you can go about lending money for your home improvements. Understand that your credit score and income will impact the size and duration of loan that you are offered, and it will also determine what you pay in interest.
Before selecting the right loan for your home renovation project, be sure to be knowledgeable of the financial terms involved. Many lenders will use your loan-to-value ratio to determine how much you can borrow and your debt-to-income ratio will determine how much your monthly payments will be. Finding the right loan that aligns with your plan for your home improvement is essential in your planning process.
How to Live in Your Home During the Renovation
If you are taking on your home improvements yourself, you probably won't have to worry about living in your home at the same time as you work. On the other hand, if you have a contractor getting the job finished for you, your daily routine may be tinkered. From trying to live with the array of equipment, supplies, noise, and workers going in and out of your home, you may need to adjust your lifestyle a bit during the process.
Set Your Expectations
The first thing you will want to do is set boundaries and dates with your contractor. Let them know where they are allowed to go in your home during their long days at work. Maybe this means designating a room or door that you are most comfortable with being where equipment enters and stays. Create and set a clear schedule that the workers and your family are aware of so that there are no surprises during an early morning or late night. Coordination is key during a home renovation, and don't forget to stay flexible throughout the process.
Prepare Your Home and Family
The best thing you can do for yourself and for the sake of your family is to prepare. If a room that is being worked on has essentials in it, such as toys, food, or clothes, make sure you collect all of your belongings and place them in another part of your home. Sometimes it works best to clear the area, so you don't feel so overwhelmed. You can do this by packing your belongings that you won't need during the renovation and placing them into a self storage unit.
If your kitchen is being remodeled, keep some nonperishable food on hand for the family. Also, consider how you can adapt any pets you have to the transition. If you have a proactive plan, then you are less likely to cross paths with the workers in your home when it is unnecessary.
Some renovations can take many months to complete, which can take a toll on your mental health. Surround yourself with things in your home to keep you and your family distracted and occupied while you wait for your dream remodel to be completed.
Where Can I Store My Belongings During the Project?
The scale of your home improvement will determine how much you will need to store away. For smaller projects, you may find space in your home for your belongings in a storage room, basement, or attic. If you are working on a larger project, your home may not have a sufficient amount of space. Some homeowners opt to rent a storage container to sit on their property. This can be a great solution for some, but can still clutter your property as your contractor may need that space.
The best solution if you are looking to do a big project is to rent a self storage unit to protect your belongings no matter if it be for short- or long-term storage. If you have never rented a self storage unit, check out this first-time renter guide for tips.
Benefits of Self Storage During Your Home Improvement
In any room of your home that you are working to improve, you may have large pieces of furniture. Instead of stressing about making room in your home, a self storage unit can hold your things during the entire renovation process. One unique benefit to self storage is that you can rent a climate controlled unit. Kept at a regulated temperature, these units are ideal for temperature sensitive belongings, such as electronics, musical instruments, and family heirlooms.
Compass Self Storage Can Help
Compass Self Storage is here to help your home improvement project go smoothly. We offer a variety of unit sizes, and pride ourselves in having many storage features such as advanced security and affordable rates. We can protect your belongings so that you can focus on the development of your home renovation. Find a facility near you today for self storage during your renovation!