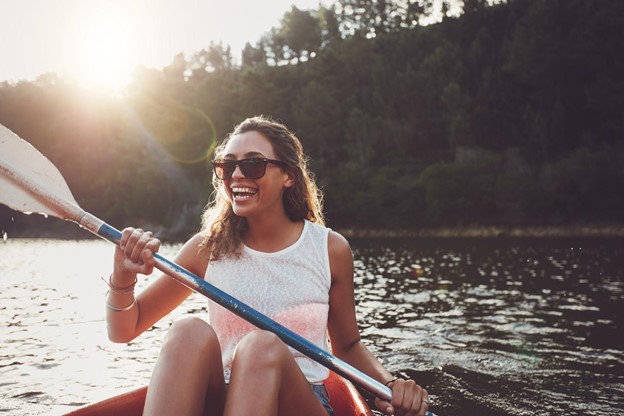 Lake life is one of the best parts of spring and summer. Whether you spend your days fishing, skiing, cruising, or kayaking, being out on the water can be lots of fun. As temperatures dip, however, it's time to consider putting your watercraft up until next year.
Storing your boat is easy, especially if you choose a convenient storage location near you. Before putting your watercraft into storage, however, make sure to follow these tips to keep it in great shape for the next time out on the water.
Motorboats and Jet Skis
Thoroughly Clean Your Boat
One major step to proper boat storage maintenance is to give it a deep clean. Scrub it inside and out, making sure to include the hardware and trim. A fresh coat of wax can also help protect it from weather—especially important if your boat is stored outside. Check for blistering or cracks and repair that damage before putting your boat into storage.
Perform Mechanical Maintenance and Checks
Depending on the size of your boat and the number of engines, this step may take longer than others. Change the oil on all motors, including outboard and inboard engines. The best time to change the oil is when the engine is still slightly warm. Be sure to reference the owner's manual and get the right kind of oil. Changing the oil keeps water and acid from corroding the engine, so don't skip this step.
You should also flush the cooling system, top off the fuel tank and add stabilizer, and disconnect the battery. Lubricate steering systems and any other mechanisms to keep them protected during periods of cold weather, and check these components for damage just like you did with the hull.
Invest in a Proper Cover and Trailer
Covering your boat or jet ski can help protect it from the elements. Be sure to invest in a water-resistant cover to ensure moisture damage doesn't occur if the boat is left outdoors. In addition, properly secure your boat to a trailer and park on a flat surface, if possible. Otherwise, use heavy blocks to keep the trailer from rolling away.
Kayaks and Canoes
Storing kayaks and canoes presents a different set of challenges. Even though these watercraft are portable enough to store just about anywhere, they still require storage prep.
Clean the Hull and Remove Fabric Seating
Give everything a proper cleaning, including both the interior and exterior surfaces. For kayaks, remove any fabric elements, such as seating, compartments, and straps. This will help keep bugs and rodents from infesting your boat.
Buy or Build a Storage Rack
Don't leave your kayak or canoe on the ground or floor. The hulls of these boats aren't built for long-term placement on hard surfaces. Using a storage rack and placing it upside down will help keep the boat secure and protect its structure. Without proper support, the plastic exterior could dent.
Use Climate Controlled Storage to Keep Kayaks Safe from Extreme Temperatures
The best place to store your kayak is inside a climate controlled storage unit. This will help keep it protected from the elements, as well as potential pest infestations. Because the temperature and humidity are regulated inside a storage unit, there's no risk of cracking or moisture damage.
Choose Compass Self Storage for Your Watercraft Storage Needs
Whether you own a full-size fishing boat, jet ski, or kayak, storing your watercraft properly can make the difference when it comes to having it recreation-ready for the following spring. The best way to ensure your boats are stored properly is to bring them to your nearest Compass Self Storage facility. In addition to keeping your boat in great shape, our storage experts can help you reclaim valuable real estate in your garage or driveway. To get started with storage for your boat, jet ski, or other watercraft, find a facility near you.