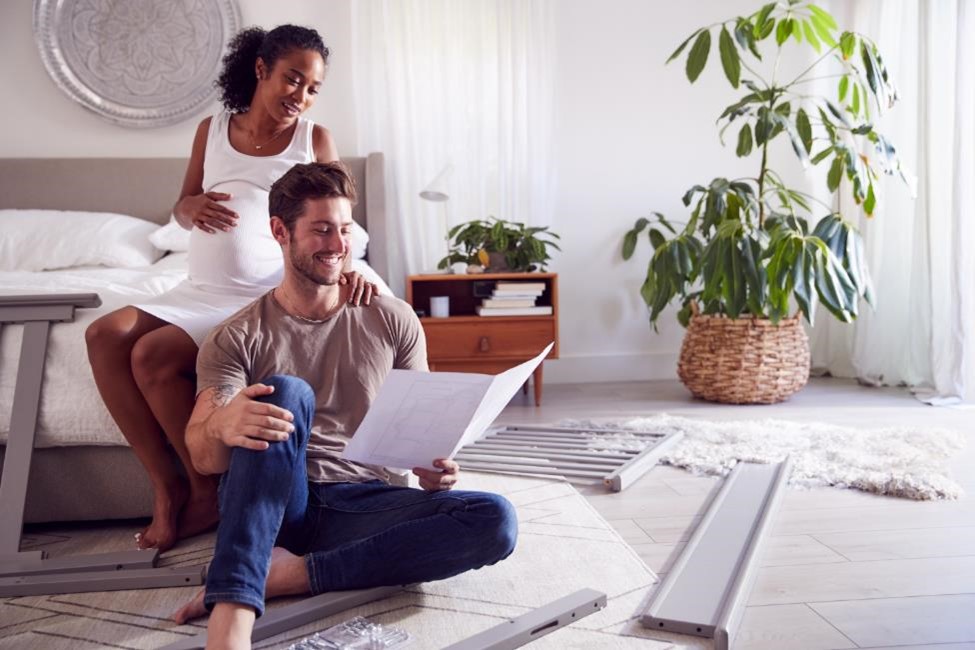 Ever feel like you always have another birthday card to send, or a birthday party to go to in September? You're not imagining it: September is the most common baby birth month in the United States, and fall babies in general are very common. Whenever your bundle of joy may be due—or if you've already got a little one and are looking for ways to better utilize your space—every baby has one thing in common: the need for space.
Space may not be the first thing that comes to mind when you think of a baby's needs, but hear us out. When you factor in a crib, changing station, rocking chair, and other baby room furniture, your little guy or gal can take up an impressive amount of space. Throw in baby room decor, and you've got yourself a grown-up sized storage challenge.
How to Handle Baby Room Furniture with Limited Space
In a perfect world, you'd have a spacious bedroom with plenty of space for you or your partner's nesting urges to go into overdrive. If you live in a smaller home or apartment, however, you may have to get creative with the room you have. Additionally, the reality of having a baby is that they should sleep in their parents' bedroom for the first six months of their life.
Known as room sharing, this practice is recommended by the American Academy of Pediatrics (AAP) for infants' first six months of life to lower the risk of sudden infant death syndrome (SIDS). Sharing your bedroom with your baby isn't mandatory, but it can help put new parents' minds at ease.
I have a small bedroom. How do I room share with my baby?
If you do decide to room share for your baby' first six months of life, it may be easier said than done, depending on the size of your bedroom. If you're in a bind for bedroom space, mini cribs can become your best friend.
You can find a wide range of foldable, portable and convertible mini cribs online. Between your little one's naps, mini cribs are easy to roll around or even fold and store, depending on the model. Just ensure whichever space-saving baby room furniture you choose falls in line with the AAP's safe sleep recommendations.
When is the best time to move a baby to their own room?
If you have a room you typically use as an office or guest room, for example, it's time to get comfy working from the kitchen table, or telling guests to sleep tight on the couch for a while. Don't have a spot to keep office furniture or a mattress while you need a nursery? Look into personal storage solutions.
When you rent a self storage unit near you, your work-from-home desk setup will be waiting for you until your little tike starts toddling into their own bedroom.
Combine fashion and function through multi-purpose baby furniture
Don't sacrifice style to preserve space in your bedroom or baby room. Multipurpose furniture provides a functional and fashionable solution for your baby room furniture needs. Use the top of a dresser as a changing station when you're on diaper duty, or invest in floating shelves to keep shelving units from eating up valuable square footage.
Should I hold onto my baby room decor and furniture?
That's entirely up to you! If you anticipate the pitter-patter of more little feet in the future, we recommend holding onto as much baby room decor and baby room furniture as you can.The overall cost of a nursery, according to The Bump, is around $2,000 – and that's if you don't splurge on the trendiest nursery furniture.
As we mentioned earlier, however, baby room furniture and decor have adult-sized storage requirements. When you want to hold onto nursery must-haves without cramping up the space your growing kiddo will need, turn to Compass Self Storage.
Make the Room Your Baby Needs with Compass Self Storage
Having a baby is a life changing event in more than one way. As you welcome a new member to your family, you'll need to make adjustments to your sleep habits, work schedule, and even the amount of space in your home.
Fortunately, residential self storage can help you make the most of your space. Even if you can't easily expand your home, self storage provides a flexible month-to-month solution to allow you to move some belongings offsite to clear the room for the perfect baby room.
At Compass Self Storage, we're dedicated to making your self storage experience easier. With affordable, convenient self storage facilities and a wide range of storage unit sizes, we can help you create the space you need for every milestone in life. Find a self storage facility near you today!