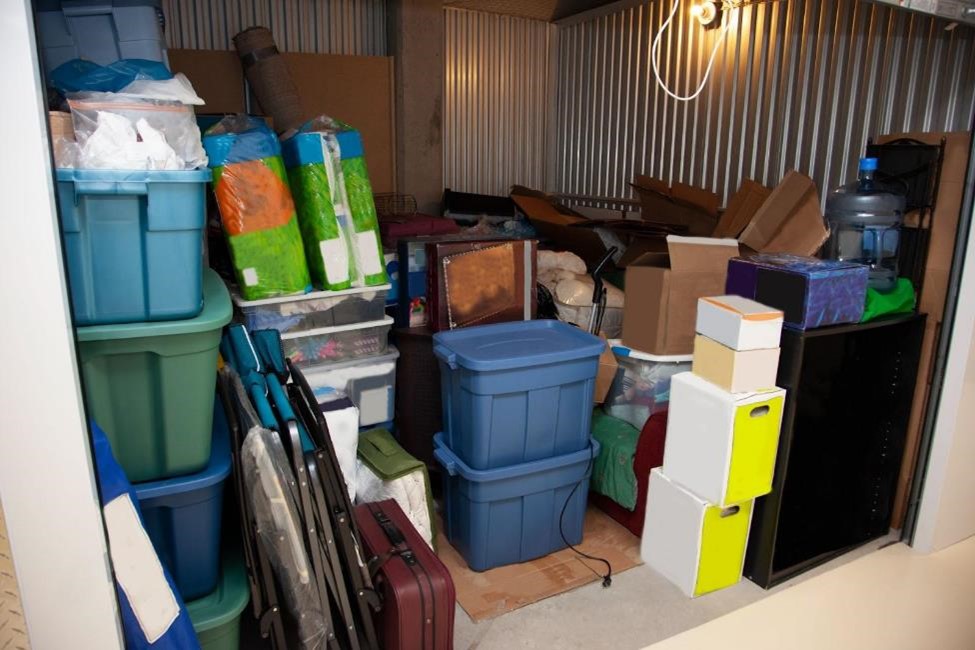 If you're big into seasonal clear outs and decluttering, make sure to include your storage unit on your cleaning list. Stopping by your storage unit and finding a total mess is not only frustrating, but also makes your space less cost-efficient and means it's harder to grab items you need. Going through and reorganizing your storage unit as the seasons change can help keep your stuff under control.
Trying to figure out how to efficiently organize a storage unit? Start by packing and labeling your stuff clearly (if you haven't already), then rotate your in-season items to easy-access spots and tidy your storage unit as you go!
Pack and Label Items Clearly
If you were in a hurry when you first moved into it, you might not have gotten a chance to properly organize your storage unit. To get started with basic storage unit organization, group related items together, pack them into boxes, and label them clearly.
Especially if you're packing stuff up for shipping or just want to keep your stuff safe as you move it around your storage unit, you'll want to choose boxes that are just big enough to fit your items snugly with a couple inches of cushion space. You can fill the cushion spaces with bubble wrap, packing peanuts, shipping blankets, foam, or other packing materials.
If you're packing delicate items like sculptures, consider adding a layer of foam or cotton batting around them before packing into a plastic bag and wrapping with a generous amount of bubble wrap.
When you're packing, always be conscientious of how different temperatures might affect packing materials, especially if you are storing in an outdoor storage unit. For example, very hot temperatures could cause plastic-based packing materials to melt, destroying your belongings. Getting a climate-controlled storage unit can help mitigate the risks of packing with temperature-sensitive materials. If you need packing materials at a Compass Self Storage facility just check with the office – we sell moving and packing supplies at many of our locations!
Once you've gotten everything packed securely, write labels on the boxes to make locating specific items easier down the road. If you're organizing your storage unit for your own use, you can probably keep labels fairly general. If you're storing items for your business, however, you may want to get more specific with your box labels and storage unit organization system, so any other employees who access the storage unit can find what they need quickly.
Rotate to Organize Your Storage Unit for the Upcoming Season
Get ready for the next season by rotating your belongings around in your unit! Keep your most frequently used regular and current-season items towards the front of your storage space and push the out-of-season items towards the back in chronological order. This way, you'll have the stuff you're using most frequently in the most immediately accessible locations throughout the year. When the current season ends, just shift the next season's items forward.
While you're moving stuff around, remember to keep a center aisle clear. That way, you can keep quick access to all of your stuff, even if you've sorted it into the "out of season" area. If you have a large garage-size storage unit, you might also want to consider keeping two or more clear aisles, so you can navigate the whole storage unit more easily.
Clean and Discard While Sorting Seasonal Items
Wondering how to keep your storage unit clean? While you're organizing and rotating your neatly packed boxes, grab a broom, vacuum, non-harsh cleaner, and some rags, and give everything a good clean. You can work in sections to avoid having to take everything out of your unit at once. Start with furniture and top surfaces first and work your way down while dusting. Finish by cleaning the floor for each area, and then shift your boxes back into the newly cleaned spot.
While you're organizing and rotating items, keep an eye out for old, damaged, or dysfunctional items and discard them when you see them. Throwing out or donating unwanted items during your seasonal cleaning will make it much easier if you decide to move out of your storage unit or find yourself in a hurry to make room.
Running Short on Storage Space in Your Unit?
If you've been steadily adding more in your storage space, you might be feeling like everything is a bit tight. If you've discarded everything you don't want to keep and already done everything you can as far as storage unit organization, it might be time to upgrade to a larger unit size or rent an additional storage unit. Luckily, we handle month-to-month rentals here at Compass Self Storage, so you won't be stuck renting two units long-term if you're just moving up a size. If you're ready for even more storage space, just find your local Compass Self Storage Facility and rent or reserve a unit online!