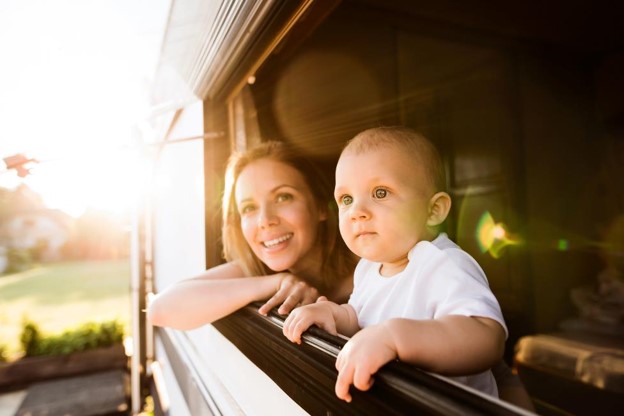 An RV trip can be a dream come true, whether you're taking a large family or going it alone. It's a great way to see the country, but it does require some serious planning to keep your road trip on track. These tips from Compass Self Storage will help you navigate everything from maintaining your vehicle to handling vacation storage.
Get in Gear
Of course, a trip to your favorite Ft. Worth, TX, mechanic is in order to make sure your RV is ready to roll. And if you're new to recreational vehicles, practice parking in an empty lot. Get to know every feature of your RV to prevent surprises on the road; there's nothing worse than getting splattered with a mud puddle and not knowing how to turn on the windshield wipers. If you'll be visiting a campground without power, water, or plumbing, stock up on water, food, and anything else you may not be able to buy at the site.
Plan for the Unexpected
Your RV trip may include spots without cell phone reception. Check the online coverage maps that most cell phone carriers post so you'll know where you should be able to get reception. Take walkie-talkies to communicate with travel buddies and print directions to your destination. Alternatively, pre-load directions on Google Maps or use a GPS so they're ready even if you lose cell signal.
Secure Vacation Storage
Some RV trips last weeks or even months. You've probably remembered to stop your mail and have someone water your plants, but have you thought about what you'll do with your RV when you return from your journey? Just as many people use self storage to keep their off-season clothes and outdoor furniture safe, but our Ft. Worth self storage facility on Alliance Gateway offers RV storage so you can keep your recreational vehicle secure and ready to go at all times.
You may also want to store your everyday car or truck while you're gone, especially if you don't have an enclosed garage. Both our Ft. Worth storage facilities offer covered parking, including our storage facility on South Hulen Street. That way, you won't have to worry about your everyday driver during your road trip.
Your Compass for a Great Road Trip
Compass Self Storage offers everyday and vacation storage for your household items and vehicles. With locations Ft. Worth and other parts of the US, you'll find a well-protected facility near you. Contact our friendly staff for help or secure a space or unit online before your next trip. Happy travels!