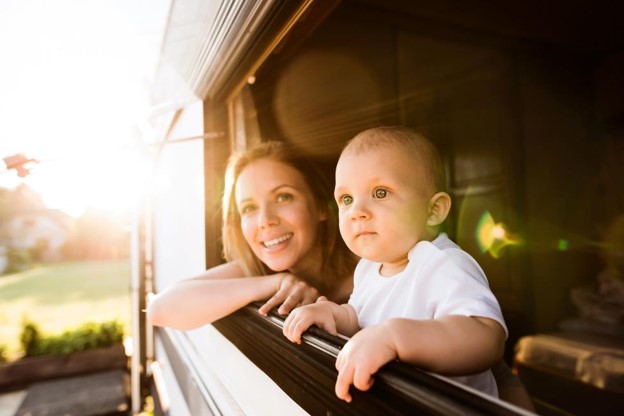 An RV trip can be a dream come true, whether you're taking a large family or going it alone. It's a great way to see the country, but it does require some serious planning to keep your road trip on track. But no matter where you live, you can do it with a little planning and a little help. Compass Self Storage is here to help, with tips, tricks, and self storage near you to store your RV or whatever else you might need to while you're on your adventure.
Get in Gear
Before taking your RV out on an adventure, you should make sure that it's in working order. If you're a handy person yourself, you should go through your RV mechanical checklist. Otherwise, take it to your favorite mechanic to make sure your RV is ready to roll. When you set out on the road, you'll need to make sure your RV is ready to go. Keep the following in mind:
Top off batteries, if necessary
Clean and inspect HVAC Unit
Test your safety equipment
Check your RV for pests (and act accordingly)
Examine and inflate tires
Inspect propane, if necessary
Ensure brakes are functioning
How to Drive an RV
If you're new to recreational vehicles, get to know every feature of your RV to prevent surprises on the road; there's nothing worse than getting splattered with a mud puddle and not knowing how to turn on the windshield wipers.
RVs are also much more difficult to maneuver and drive than your average car or truck. Our tip for figuring out how to park a relative behemoth of a vehicle? Practice parking in an empty lot!
Plan for the Unexpected
Your RV trip may include spots without cell phone reception. Check the online coverage maps that most cell phone carriers post so you'll know where you should be able to get reception. Take walkie-talkies to communicate with travel buddies and print directions to your destination. Alternatively, pre-load directions on Google Maps or use a GPS so they're ready even if you lose cell signal.
If you'll be visiting a campground without power, water, or plumbing, stock up on water, food, and anything else you may not be able to buy at the site.
RV and Vehicle Storage
Some RV trips last weeks or even months. You've probably remembered to stop your mail and have someone water your plants, but have you thought about what you'll do with your RV when you return from your journey? Compass Self Storage provides convenient RV storage at many of storage facilities around the country so you can keep your RV ready to go and easily accessible even when you're not on the road.
You may also want to store your everyday car or truck while you're gone, especially if you don't have an enclosed garage. In addition to our uncovered vehicle spaces, we also have covered, enclosed vehicle storage at many of our facilities, too. That way, you won't have to worry about your everyday driver during your road trip.
Your Compass for a Great Road Trip
Compass Self Storage offers everyday and vacation storage for your household items and vehicles. With locations across the United States, you'll find a well-protected facility near you. Contact our friendly staff for help or secure a space or rent a storage unit or parking space online before your next RV trip!