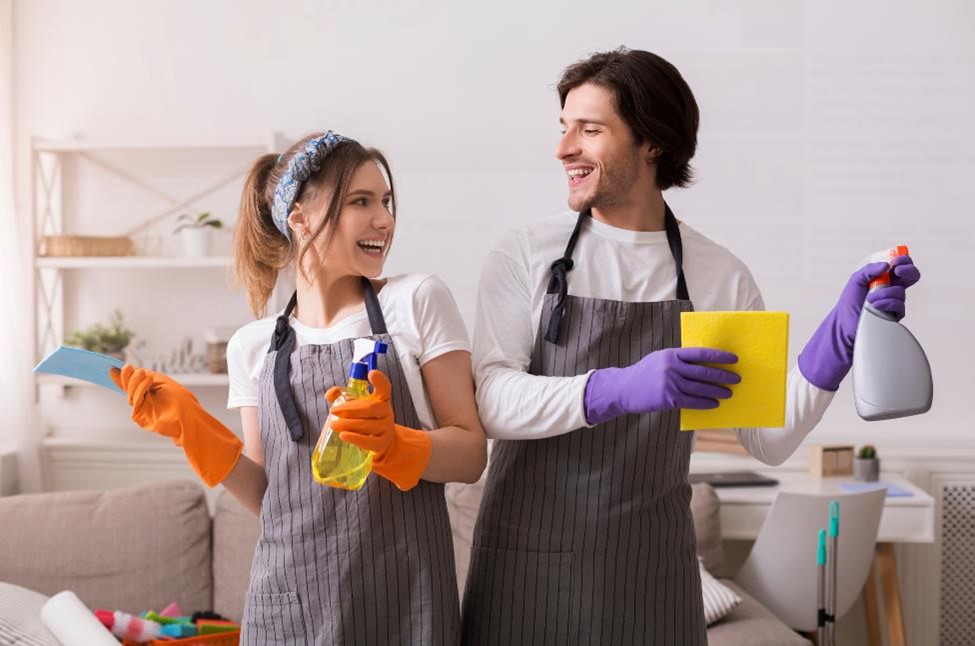 Spring is a time best defined by its feeling of starting anew. Another winter has come and gone. There's a good chance that your beloved home has undergone some neglect during the cold months, and that's okay, because spring cleaning exists! Book-ending winter as it departs is a short, dedicated window where we take back order and help our homes feel fresh again.
Incoming are some spring cleaning tips from your friendly neighborhood moving and storage experts, to help you revitalize your home and pave the way for a bright, organized spring season.
Start From the Top
Two rules should be kept top-of-mind when running through your spring cleaning checklist: only one room at a time, and when possible, start from the top and work your way down. By compartmentalizing tasks like this, you bring the stress of your cleaning adventure to a minimum and avoid doing more work than necessary.
By starting from the top, we mean it literally—from ceilings and cabinet tops down to the floor. That's because, when cleaning tools and supplies are involved, dirt and dust will fall from ceiling fans, mirrors, clocks, or anything else higher off the ground. If instead you start by cleaning those things, you reduce the chance that you'll need to retread areas you've already cleaned.
One Room at a Time
Cleaning your home room by room is the most efficient way to complete a spring cleaning. It doesn't really matter where you start, but you should consider which areas need the most attention. Some people prefer to knock out the room with the heaviest expected workload first, while others prefer to chunk the overall process and gain momentum by clearing smaller obstacles. It depends on your preference, but regardless which you choose, make a checklist to keep yourself organized and on-task.
If the prospect of doing too much cleaning at a time gives you stress or anxiety, or if you're sensitive to any chemical smells, allow yourself the freedom to perform your cleaning operation in 15 or 20-minute intervals. Just don't delay too long before returning to the task-at-hand, or the process will feel like it's taking longer than should.
Seasonal Chores
Kill two birds with one stone by tackling seasonal chores alongside standard cleaning items. To bring your home up to its cleanest potential, take a moment to identify those small tasks that you might have put off during winter, or which only need to be done occasionally. Such as:
Mow the lawn and other yard work
Clean the grill
Wipe down the outside windows
Organize and clean the patio
Dust the shed for cobwebs
Replace the wood in the fire pit
Also, put away that snowblower. Here's hoping you aren't going to need it for a while. If you don't have space in your garage or shed, you can always put it and other seasonal tools in spring cleaning storage.
Minimize Cleaning Supplies
The last thing you want to do when cleaning is to add to the problem. Some cleaning supplies will be required, but don't get bogged down with a dozen different chemicals if you can help it. It's amazing how much territory you can cover with an all-purpose cleaner, some paper towels, and a microfiber cloth.
While on the subject of cleaning supplies, if you've thought the living room carpet needed a deep clean and you require professional assistance, now might be the best time to organize that. You're already moving things around, so it's just another two-birds situation to help optimize your time and resources.
Consider Solutions for the Future
Once you approach the end of your spring cleaning checklist, it may be worth asking why certain areas became as cluttered as they were. Take some time to diagnose problems and organize solutions. Why was there a heap of shoes by the front door? Would a shoe rack help? Could some extra coat hooks remove the inevitable pile of discarded jackets? Maybe an organization system for the mail?
Regardless of the solution, if you live with family, it's important to bring everyone up to speed with any expected changes around the home. Otherwise, you risk doing all of the same work again (and possibly more) this time next year.
Create a Little More Space with Compass
When in the trenches of spring cleaning, it is usually pretty evident how much easier the process would be if you could temporarily relocate some of the larger obstacles and clutter around you. Fortunately, the professionals at Compass Self Storage would love to help. As your dedicated moving and storage solution, we can provide you with any packing supplies, moving truck rentals, and more—plus, our units are rented on a month-to-month basis, perfect for your temporary storage needs. Consult our size guide to determine what option is best for you, and refer to our location tracker to pinpoint the facility nearest your home.
Give your home a chance to breathe and rent a reliable storage unit today!