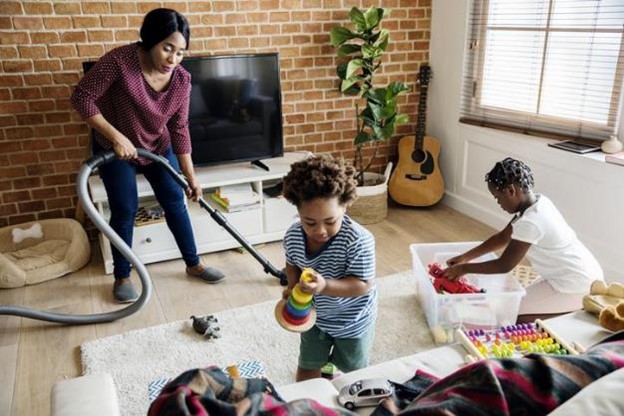 Spring cleaning season is here—if it wasn't for you already! Although a begrudged task for many, spring cleaning comes with many benefits including a decluttered home, improved mental health, and an overall healthier home for your family to live and grow in. We understand that spring cleaning is a big task to tackle that can be overwhelming for one person to handle.
But why handle it yourself when you have a family that can help conquer the task? With a family of helping hands, you can complete your spring cleaning and participate in family bonding at the same time! Here's how to involve the whole family in spring cleaning—and where to find the storage near you that makes it possible.
Plan Ahead
Spring cleaning can be an intensive process. There's so much to do. including cleaning, organizing, decluttering, and it can be frustrating trying to figure out where to start. The easiest way to start your spring cleaning, no matter how big or small your project, is to map everything out and make a plan.
Make a List
Start by making a list of everything you need to get done. Next, determine if you want to dedicate one full day to spring cleaning or if you want to spread it out over multiple days. If you haven't spring cleaned in a while, we suggest you spread out your tasks over a few days so it feels less massive job. Once you've decided how many days you'll dedicate to cleaning, create a schedule with all the tasks and the approximate time it will take to complete them.
Assign Out Jobs
Now that you've laid out all the tasks you need to be completed, it's time to assign each task to a member of your family. When assigning tasks, make sure to assign age-appropriate tasks and be aware that you might have to demonstrate how to do them.
To make your children feel more involved, consider providing them some options and then let them choose what tasks they want to do. This will create excitement and make them feel as though they are in charge.
With the tasks assigned to everyone, you may notice that your kids may not be very motivated to get started. Now's the time to add in the fun. There are plenty of ways to get everyone on their feet and make cleaning exciting such as:
Playing music. Turn up the volume and jam out to everyone's favorite tunes as you are cleaning.
Making it a game. Scavenger hunts are easy ways to get your kids pumped up to clean. Give them tasks such as "pick up 10 pieces of trash in your room" and watch them shuffle around to get it done. Another fun game is to give each kid a disinfecting wipe and tell them whoever gets the dirtiest wipe wins.
Setting a timer. Breaking each task into timed increments helps keep kids on tasks and will help the time go by faster. Make it interesting by creating a competition with the time. The first one to finish the task with the fastest time wins.
Making it fun doesn't just apply to your kids, too—try to make the cleaning process fun for you, too. They say time flies when you're having fun, so consider making a friendly competition with your spouse or significant other to bring out some joy in the process.
Provide Incentives
If you have older kids, they might be "too cool" for the cleaning games. But there are other ways you can motivate the big kids to get their tasks done in a heartbeat. To give you preteens and teens a little pep in their step, provide incentives and awards such as:
A trip to the movies or mall
Time to hang with friends
Fast food or a yummy dessert
Money to buy whatever they want
Things like this usually get the big kids excited to be involved and will have them. And remember, it's not bribing. It's simply rewarding good behavior!
Create a Maintenance Plan
Once you've finished your spring cleaning, it's important to create a maintenance schedule to ensure that all of your work doesn't go to waste. Assign weekly chores and create an easy-to-read schedule so the kids can follow along. This way, when spring cleaning season comes around again, you won't have as much of a beast to conquer and will get through a lot easier.
Declutter and Store With Compass Self Storage
After cleaning and organizing your home, you probably have some items that you don't quite want to throw away, but you don't have space for in your home. Fortunately, we have a solution to that problem.
At Compass Self Storage, you can conveniently store belongings such as holiday decorations, seasonal clothes, and more at budget-friendly prices. We provide clean and well-lit storage units in a wide variety of unit sizes, so you'll be sure to find the unit best for you. And with climate controlled units at select facilities, that will keep your temperature-sensitive belongings protected from extreme hot or cold temperatures. Finish the last step of your spring cleaning by finding a Compass Self Storage near you and renting your storage unit today!