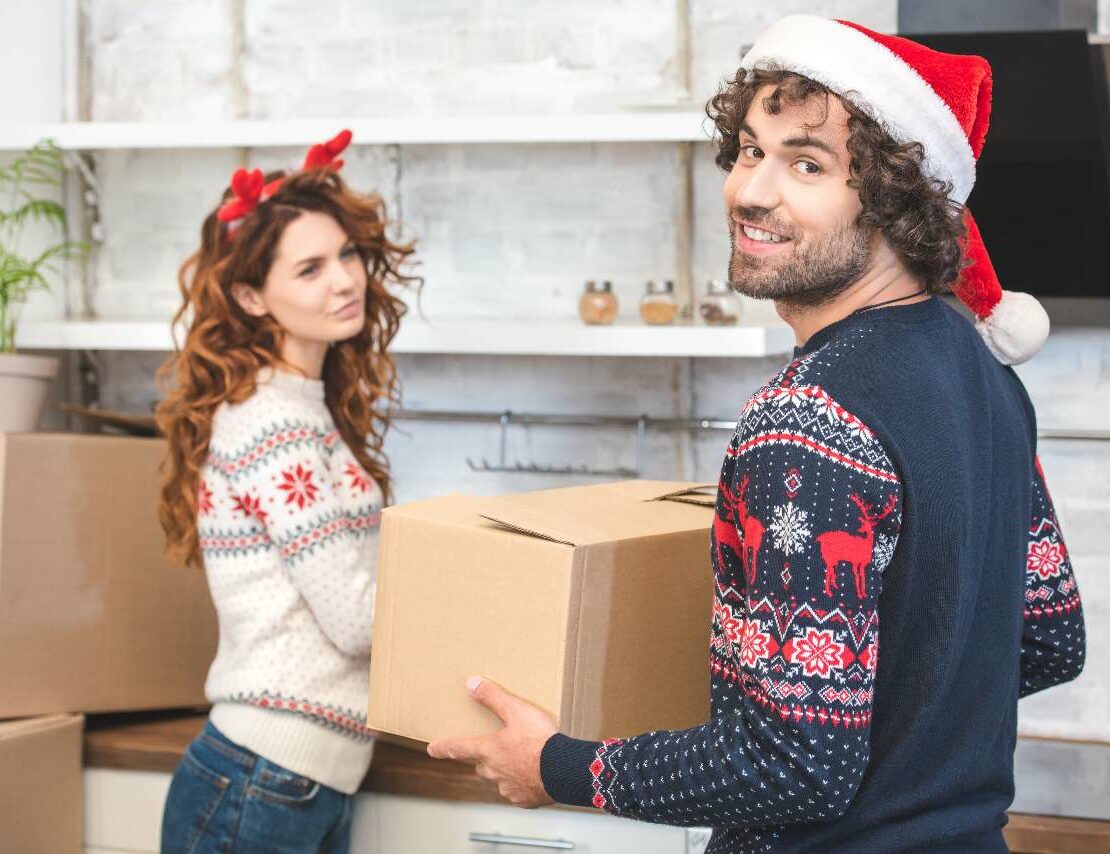 Even though we have the best intentions for planning a move, sometimes obstacles get in the way. Or perhaps an opportunity comes up that you can't refuse, and you need to pack during the coldest of the winter months.
Cold weather, ice, and snow make moving more of a pain than it should be, but it can be done. The trick with moving during the winter is that timelines can shift based on many factors, including the weather. But for those who are flexible, patient, and prepared, moving in the winter can go smoothly.
Whether it's across town or moving across the country, Compass Self Storage offers tips for moving in the winter, along with tools to simplify your move. Take some of the hassle out of getting from Point A to Point B when the weather outside is frightful.
Be Flexible
Your moving timelines are going to change as winter settles in, especially if you live somewhere with lots of snow and ice. Whether you plan on hiring movers to help expedite the packing and loading process or want to do everything yourself, it's possible that your moving dates may need to shift. Be flexible. It isn't just a matter of inconvenience. It's a safety issue.
Pack as Early as Possible
Packing as early as possible is always great advice for a move, but it makes even more sense during the winter months. Seasonal clothing like shorts, tank tops, and other summer gear is probably packed away, anyway, but if there's anything that you won't immediately use, box it up.
Prepare Your Home for Moving
In addition to packing up boxes, you'll want to spend some time preparing the outside of your home for a move. If the weather has recently dropped snow on your doorstep or slick conditions on the driveway, take some time to clear these areas off. Either you or your movers will be going in and out hundreds of times on moving day. The last thing you want is someone to slip and fall on a patch of ice or snow.
Take Care to Protect Floors When Moving
If possible, put down towels, rugs, or plastic sheeting in high traffic areas to protect your carpeting and hardwood floors from slushy ice and snow. Rock salt and sand can damage floors, too, so take care if you've had to use those things recently.
Make Sure the Utilities Function
If you're moving across town, take a quick trip over to the new house before the day of your move and ensure utilities are turned on and working properly. Take note of any lightbulbs that may be out and replace them prior to the move, if possible. Daylight hours are shorter during the winter months, so you may be finishing up your move after sunset. And while it may be a little more expensive to run the furnace over those few days, having a warm home to move into will definitely be worth it.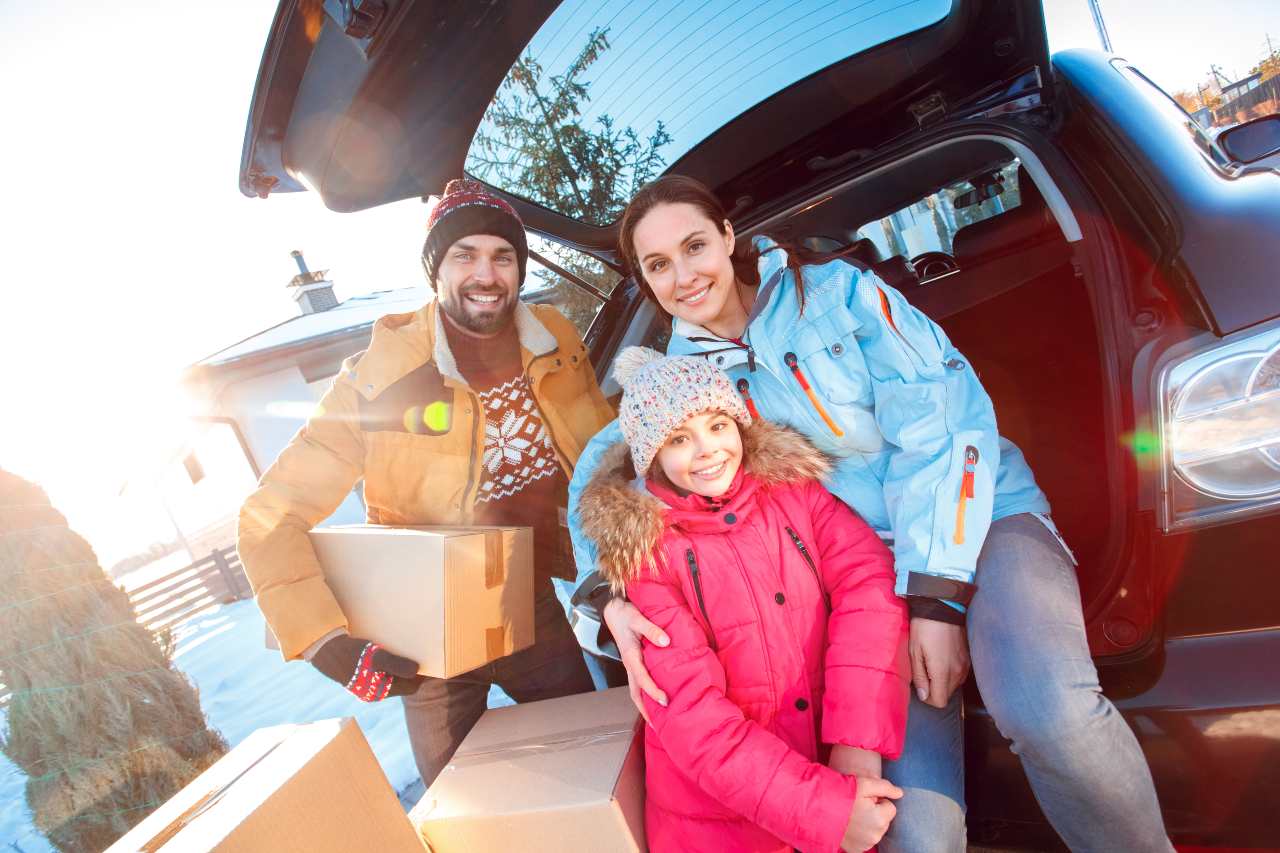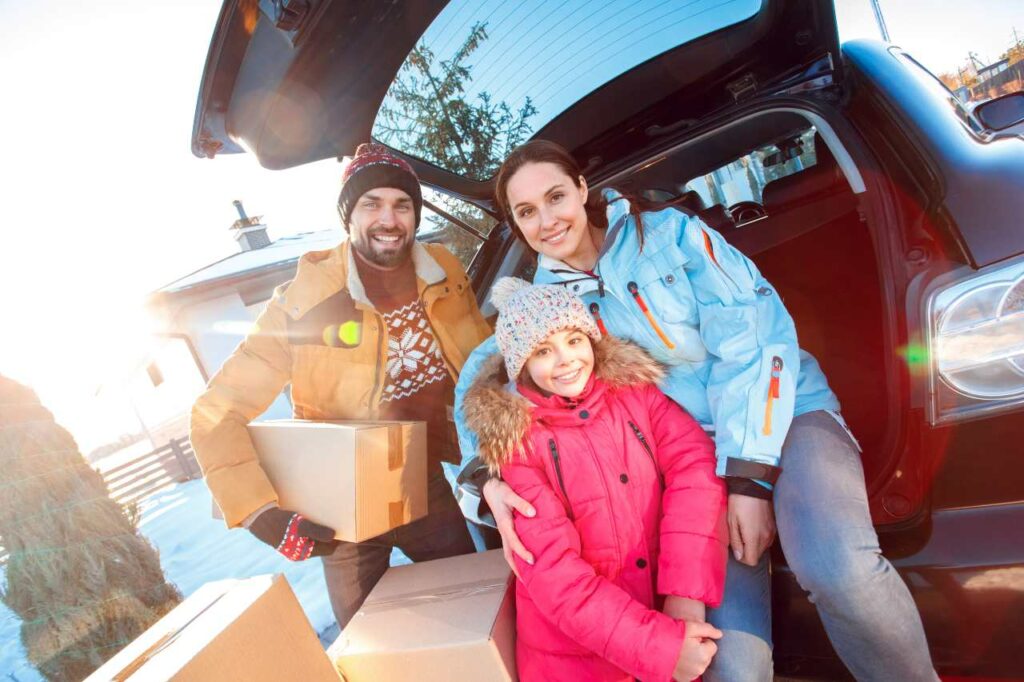 Prepare Vehicles for a Long Distance Move
Driving long distances is a lot different from moving across town. Take your vehicle(s) in for a maintenance check before hitting the open road. Make sure your car's brakes, tires, battery, and major fluids are all in tip-top shape. This is especially true if your move takes you over mountains where snow and ice make tire traction and stopping a matter of life and death.
Take the time to pack extra blankets, bottled water, and battery chargers for your phone and/or other devices. A good emergency kit won't take up too much space, but could be a lifesaver if your travel time stretches out due to inclement weather.
If your new move doesn't involve using your own vehicle, we offer moving trucks to help get your belongings to your new destination.
Give Yourself Plenty of Time to Get to Your New Home
Speaking of travel time, build in some cushion—especially if you're moving across the country. If moving for work, consider scheduling an extra day or two into your move to give yourself time for any unforeseen difficulties.
How to Protect Your Belongings from Cold Weather
Cold weather poses a particular problem for items that are susceptible to extreme temperatures. Pay careful attention when moving items that might be damaged by the cold; televisions, computers, and other electronics do not fare well when left out in sub-zero temperatures for long periods of time.
Other items, such as dishware, may break more easily if left exposed to the cold for too long. Wrap these articles in multiple layers of blankets and try to pack them last, if possible. For anything you might be particularly worried about, there's always the option to try and fit it in your vehicle. Just don't forget to pack blankets and winter clothes in your car in case the move takes longer than you expected—or you run into trouble.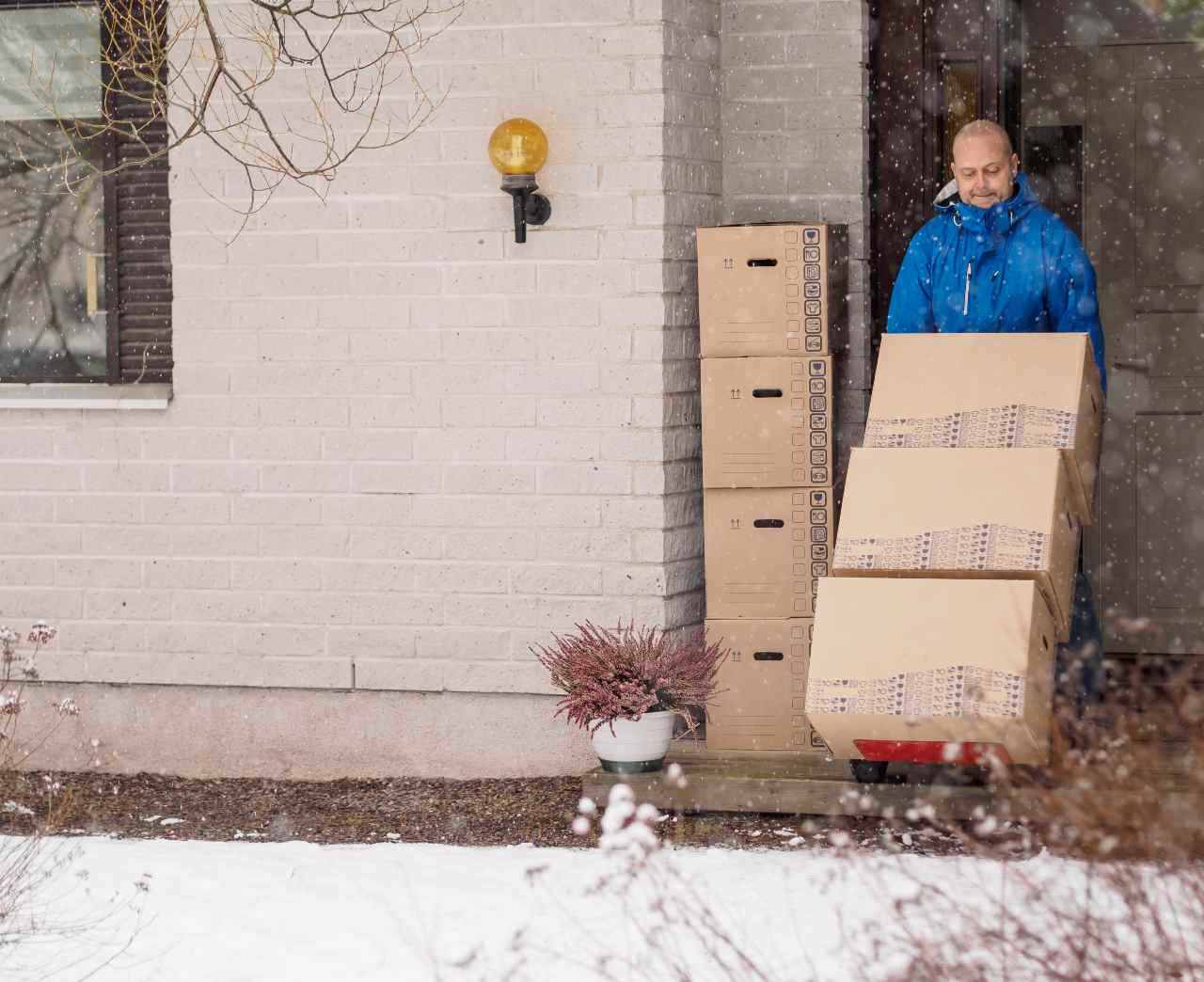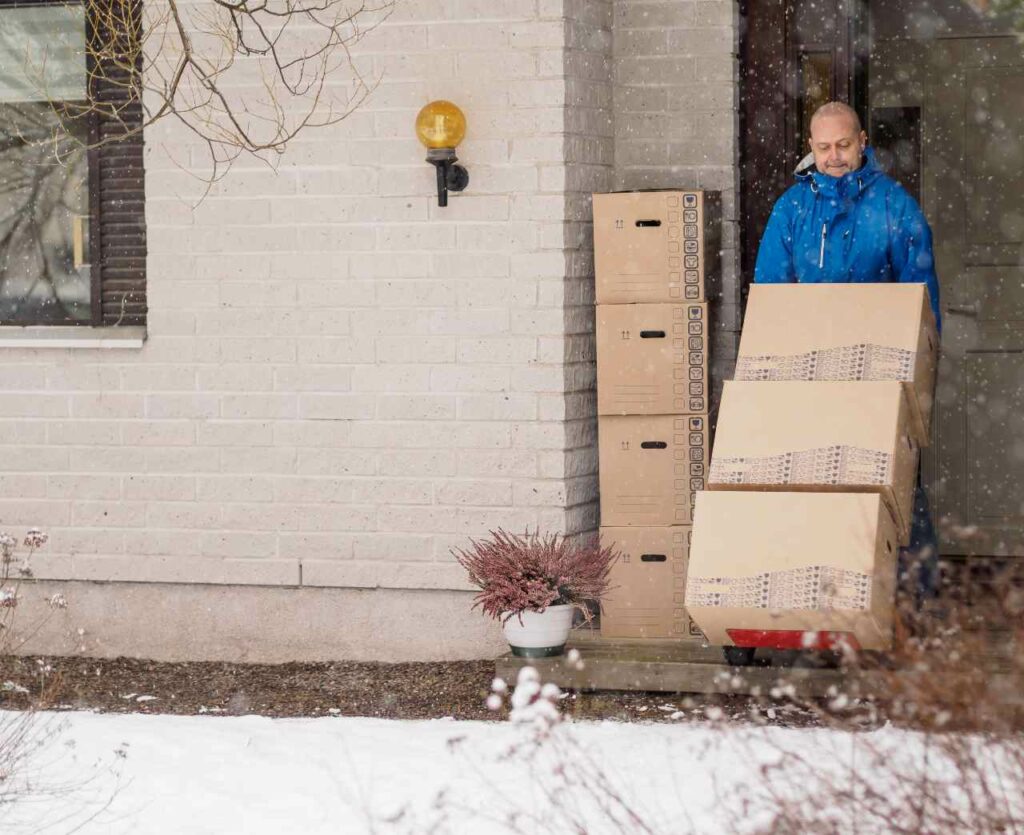 Cold Weather Storage Needs
Sometimes, a winter move can't happen as quickly as you'd like. If your stuff needs to stay in storage for any length of time during the colder months, it's vital that you choose the right kind of storage unit for these belongings.
Drive-up storage works for short-term needs and items that don't need protection from the elements. But for those items that might need a stable temperature to stay safe, climate-controlled storage offers an additional level of protection. These units are kept at a consistent temperature throughout the winter months.
How to Find Affordable Storage in Winter
Storage facilities offer flexible, convenient options all year round, which makes it simple to find a space to store your belongings if necessary. Most facilities have climate-controlled storage units in multiple sizes to accommodate nearly any need, from small units for apartment-sized storage needs to a 10×30 that can hold the contents of an entire three-bedroom home.
Because these storage facilities do not require long-term leases, it's possible to store your belongings for as long (or short) a term as you need it. Rent for one month or one year as you search for your forever home—the choice is up to you!
Find Storage Near You With Compass Self Storage
Self storage can help streamline the moving process by giving you a convenient spot to store items as you stage or sell your home. It also works great for those times when finding the right place to put down roots takes longer than you expected. Compass Self Storage has locations throughout the United States that are staffed by friendly folks who want to help make your move a breeze. We'll even help you find the moving supplies you need to make your winter move go smoothly.
So when you close on that new home or find that apartment you've always wanted, let Compass help make your dream happen. To see what unit is right for you, see our unit size guide. If you've never rented a storage unit before we have a first time renter's guide to help get you started. Even if you have rented a unit before you'll want to read our storage and packing tips to make sure all your bases are covered.