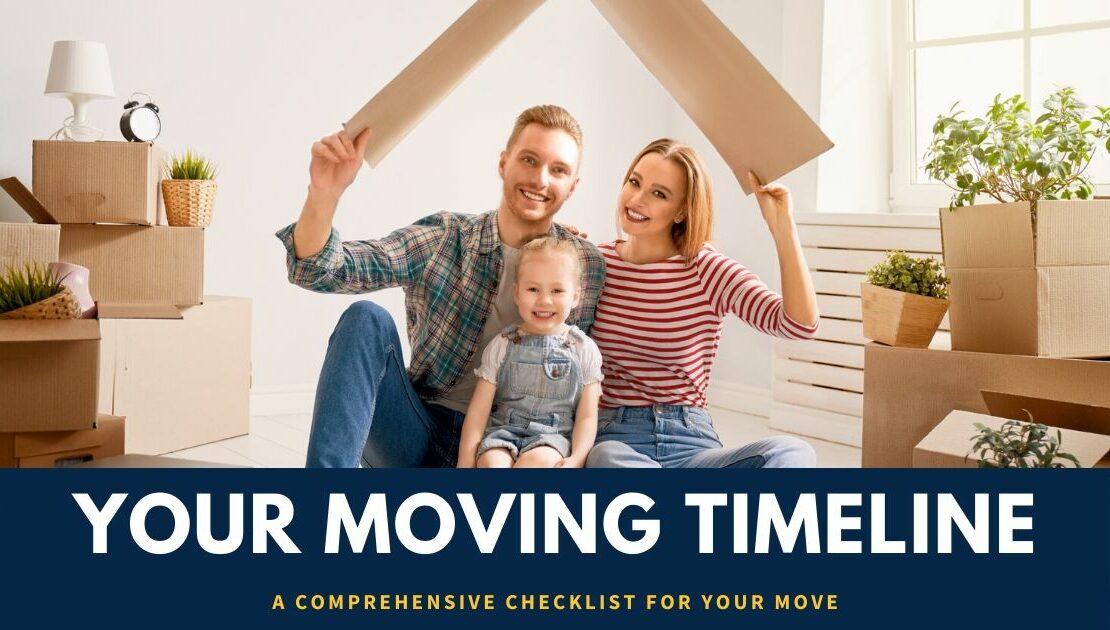 Are you moving soon? Does the prospect of packing up your entire life give you anxiety? Whether your relocation plans take you just down the street, to a new city or state, or even to an entirely new country, moving can feel like a daunting task because of all the—well—moving parts. It doesn't have to be that way, however. Yes, not every move can be meticulously planned, and sometimes we're forced to make quick decisions based on job prospects, promotions, family needs, and other life events. While you'll never be able to eliminate all the stresses of moving entirely, taking the time to plan out your move can go a long way toward making the process go much more smoothly—if not making it more enjoyable.
At Compass Self Storage, our main goal is helping our friends and neighbors move their belongings as easily as possible. To get started, let's look at everything you should do prior to the big day and create a checklist.
Eight Weeks Before You Move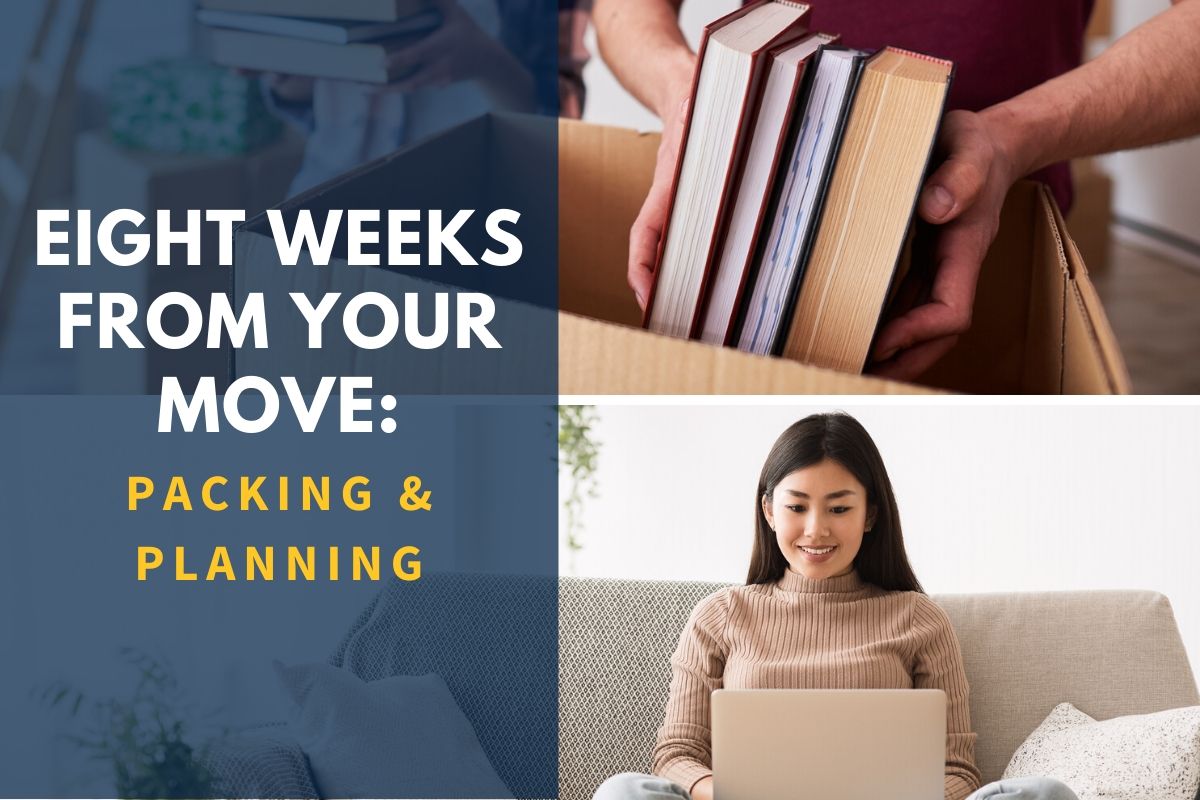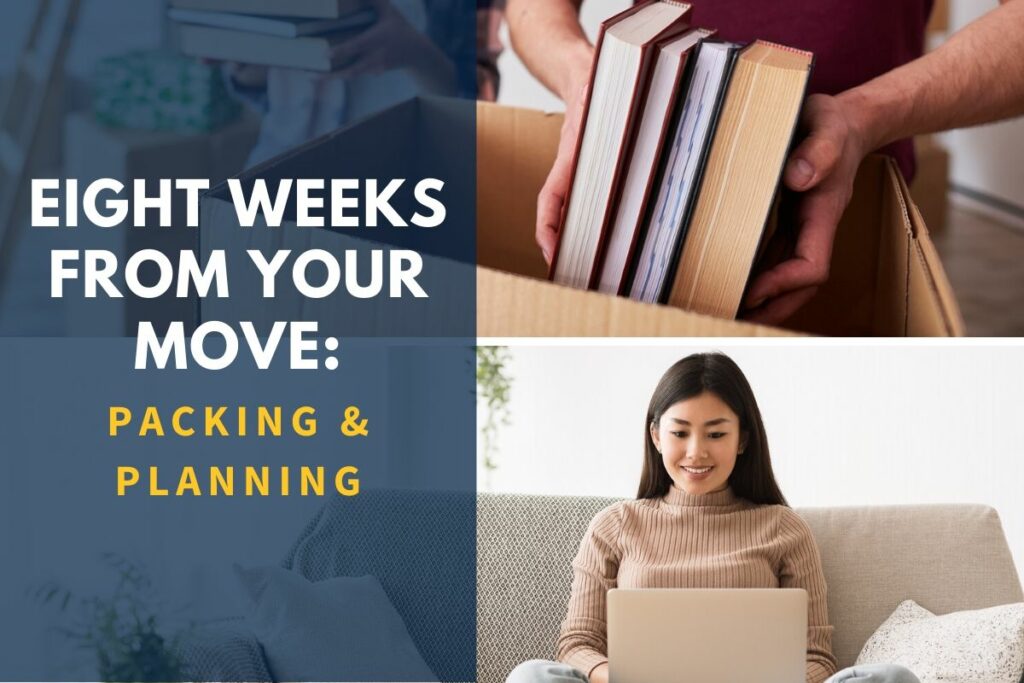 Congratulations! You're moving! You've decided on a new home and are ready to pack up and get to your destination. Now comes the fun (and hard) part: actively moving. You're far enough out that you don't need to panic, but things you do now can really make an impact on your overall experience.
Planning
The item on your list is to create a system for managing your move. If you're someone who likes physically writing things down, grab a notebook. Pick something in a bright color or pattern you're less likely to misplace (which might happen as your belongings end up in boxes). If you're more computer savvy, a spreadsheet or file folder on your computer is the way to go. We're big fans of the latter, if only because it's an easy way to store documents, quotes, receipts, and records related to the move. If you're able to choose a school for your kids, go ahead and start putting research in this folder, too.
Make sure to take moving day off of work, especially if you're not moving to a new city or starting a new job. Moving on a Friday gives you the rest of the weekend to start to unpack the necessities and organize a little.
Sit down and look at your finances, as well as your plans for your new home. You may have to trade off between getting a brand new sofa and hiring professional movers. You also may not have a choice, depending on how far you're moving. If you do plan on hiring movers, schedule in-home estimates with a moving company. Check online reviews and see if you can gather references. Always read a handful of good reviews and a selection of bad ones to try and get the whole picture.
As a side note, be sure to read everything in the contract. If your fridge line leaks after it's been disconnected, you want to be absolutely certain whose responsibility it is to pay for repairs. You also want to be aware of how damages are covered if something is broken in transit.
Packing and Purging
Depending on what time of year you're moving, this is a great opportunity to go through closets and drawers. Either pack items you know you'll be keeping but not using in the future or purge stuff you're ready to say goodbye to. Seasonal clothing, books, DVDs, and toys are all great candidates for either packing or purging. As a general rule, something you pack today is something you don't have to pack later—and something you get rid of, either through donations or yard sales, is something you won't need to unpack at your new place.
As an additional bonus, packing items now may also help with staging your home for sale if it's still on the market.
Six Weeks Before Moving Day
If you've pre-packed some items and done a fair amount of planning, you may want to take some time with friends and family. This is also the time to focus on packing. Be sure you buy enough moving supplies or snag them from friends and businesses, such as bookstores and grocery stores.
Once you have enough boxes (or more boxes than you can fit comfortably in your home), research valuable packing hacks and label your boxes clearly, including with the contents of each box,its current room, and its final destination. For items with complicated set-up (such as TVs, home theaters, and stereos), you should take a photo of how everything looks before it's unhooked. Try to label wires, too, and keep power cables with their devices.
If something is fragile, clearly label it as such. Use different colors for each room. This will help make placing boxes in the correct rooms a whole lot easier later. Taking a solid inventory of what is in each room today and placing it in a spreadsheet or notebook will also help ensure nothing gets misplaced throughout the next few weeks. Make sure this sheet is private, especially if you're putting valuable items in any boxes.
Prepare your vehicles for moving, especially if you're driving them across the country. Get an oil change, tire rotation, and any mechanical issues addressed before you hit the road. If you're shipping the car, now's as good a time as any to remove any valuables.
Four Weeks to Go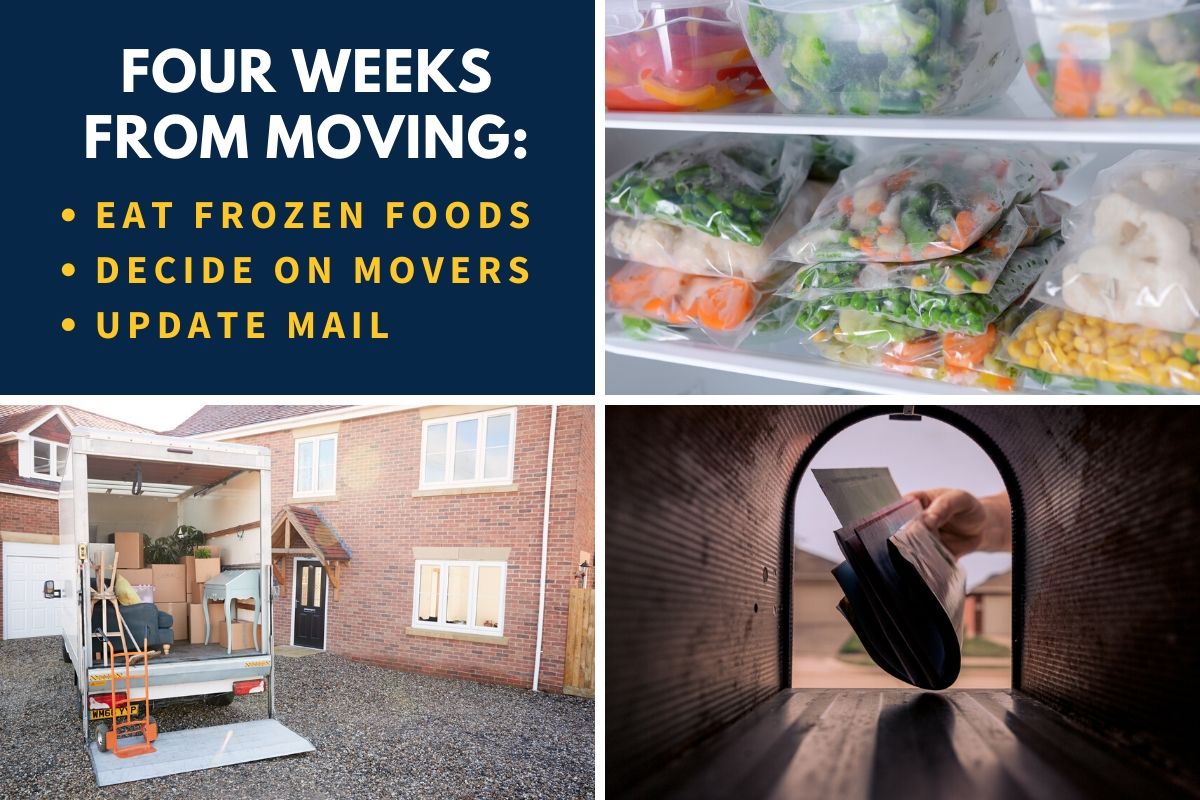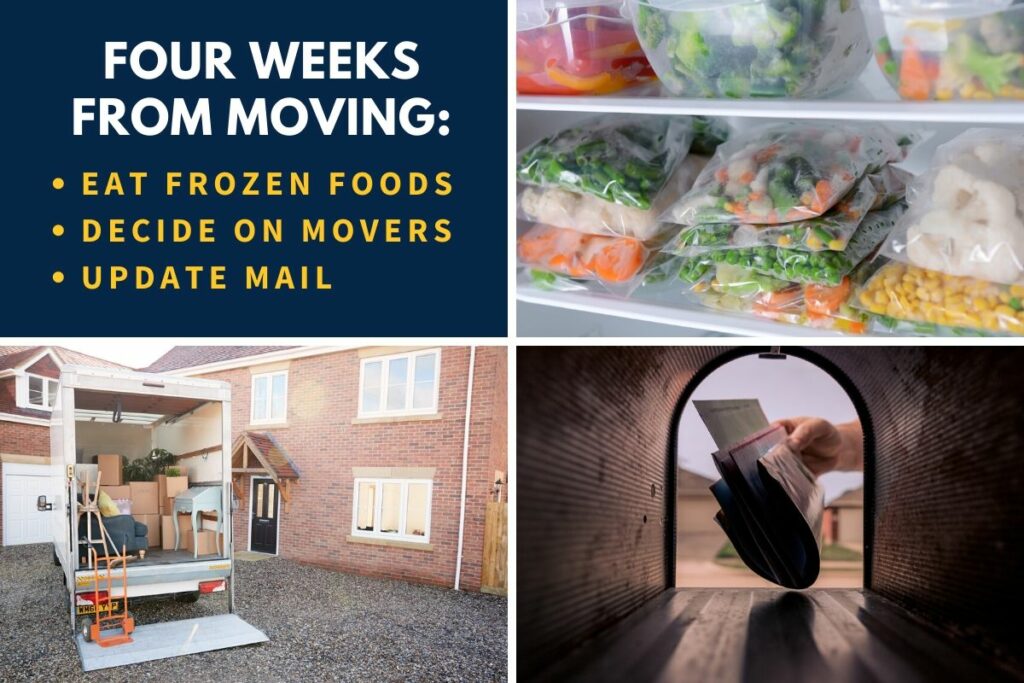 You're a month out from the big day, so it's time to get your document ducks in a row. Collect all important records you'll be personally transporting: think birth certificates, passports, legal documents, and financial items. If they're not already in a fireproof safe, consider investing in one. This makes it easy to grab and go on moving day.
Use or donate items that can't be sold or packed, such as any frozen foods or cleaning products, bleaches, or aerosols. If you haven't confirmed your moving truck, it's time to decide on DIY or professional movers.
Return any library books, movie rentals, and borrowed items from friends and family throughout the next few weeks. Schedule your internet and TV installations at your new home, if you need to. Nothing is worse than having to wait a few extra days for installation. At the same time, go ahead and use this time to find new doctors, dentists, and veterinarians in your new neighborhood. Finalize any kind of record collections now and transfer them to your new medical professionals as soon as you can.
Two Weeks Prior to Moving Day
We're in the home stretch, which means you really can't afford to put anything off. Make sure you've gotten all the utilities set up at your new place of residence, including electricity, trash, water, and internet. Finish packing up anything you're not using on a daily basis, including photographs, seasonal clothes, shoes, movies, and books. Fill your prescriptions and try to use everything in your refrigerator as much as possible. Try to empty out your freezers so there's plenty of time for them to defrost, and triple-check that everything you've borrowed from friends and neighbors is back with their original owner.
This is the time to set up insurance, change your address with all your banks and financial providers, and get ready for mail forwarding. Cancel any memberships you're not using, and—if possible—update your driver's license.
It's almost time to move! You're doing great!
Moving Week Tasks
Prepare any items you've been using up to this week for the move. Drain water hoses, unplug the fridge and freezer, and start cleaning your home for its new residents. Pack one box with essentials that you'll need for the first 24 hours in your new home. Go ahead and withdraw cash to tip movers, and take plenty of pictures of your empty apartment or house to prove it's in move-out condition. Don't forget to patch any nail holes.
Moving Day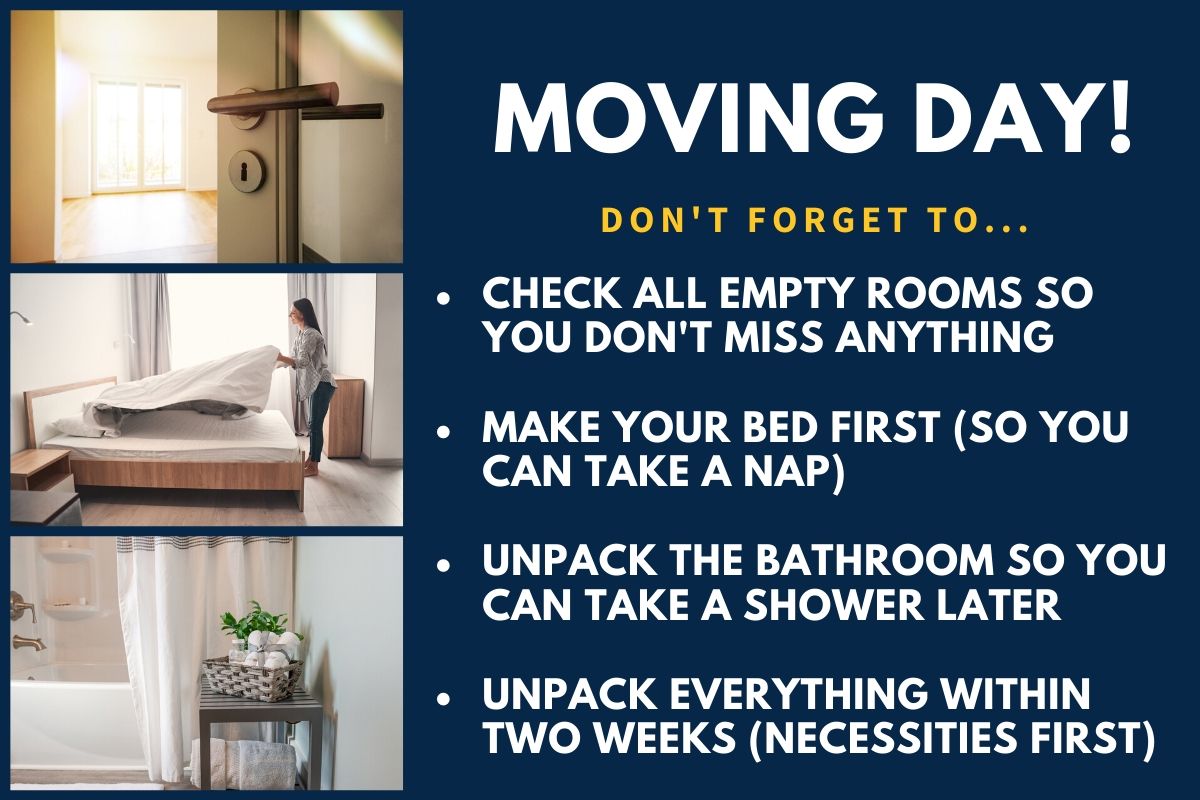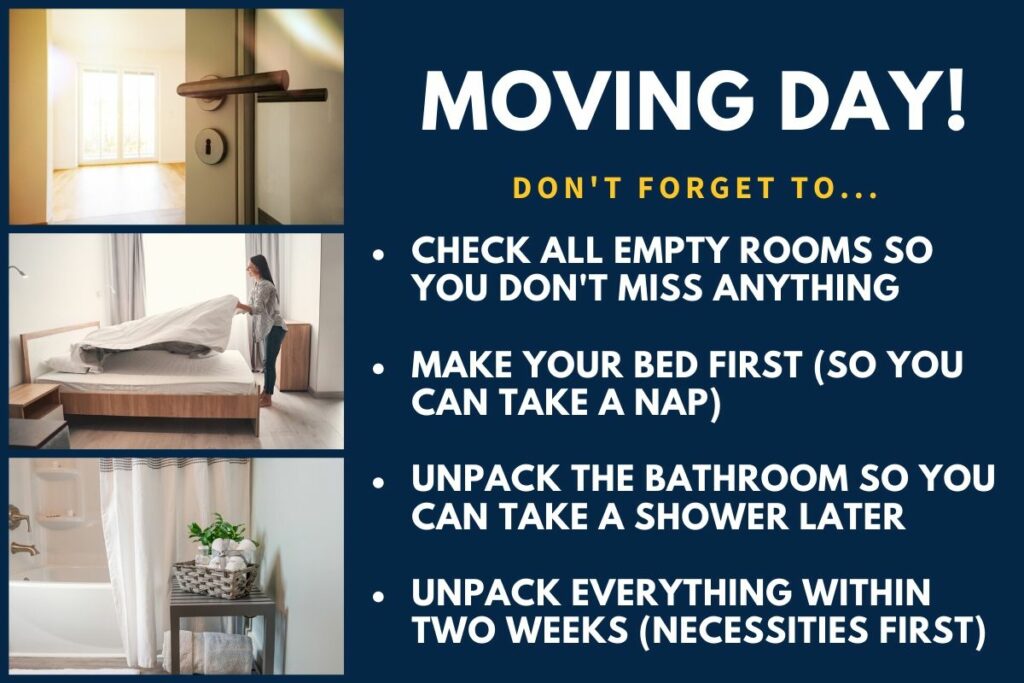 Get up early and confirm everything is ready to go. Make sure you're available to help your movers with any questions they may have, and walk through every room once it's been emptied to ensure everything is out. If you're just moving across town, you should probably unpack things to make your bed and take a shower at the end of the day first. Beyond that, try to unpack everything throughout the course of the next two weeks in whatever order you'd like, working from necessities out.
Consider Self Storage at Compass Self Storage
One other, often-overlooked way to make moving easier? Self storage! When you use self storage to stay organized during a move, you definitely cut down on the number of boxes you have to fight your way through during the packing and unpacking process. Storage is also a great way to save space if you've moved into an apartment while shopping for your new forever home.
Whether you're moving across town or across the country, the storage and moving experts at Compass can help. We'll help you figure out the right amount of boxes, look for reputable moving companies, and even offer a rental truck if you're in the mood to move everything yourself.
Need help with your move or your storage concern? Give us a call or find the nearest Compass Self Storage location today.