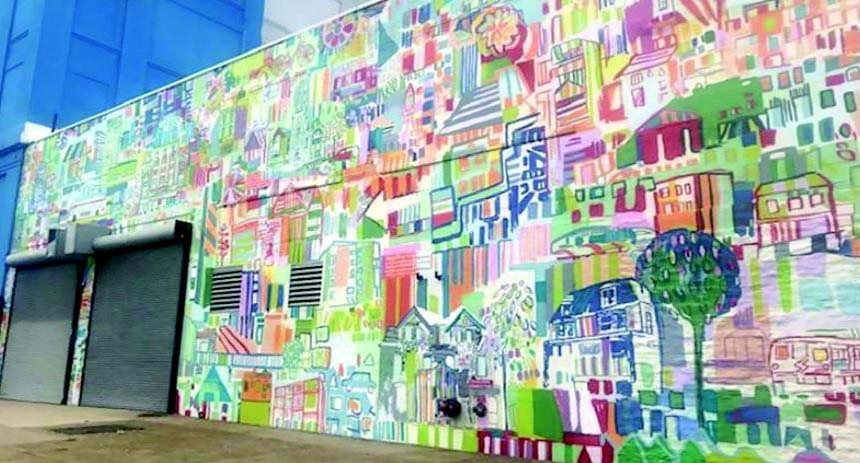 At Compass Self Storage, we believe that integrating with our community is an important part of our mission to provide affordable and high-quality self storage to our communities. That's why we're excited to see our self storage facility in Philadelphia, PA, on Allegheny Avenue has been transformed into an amazing work of art!
In conjunction with Mural Arts Philadelphia, this large, outdoor mural took several months to complete and brings some beautifully bright colors to this neighborhood. Here is a bit more about this wonderful organization from their website:
"For over 35 years, Mural Arts has united artists and communities through a collaborative process, rooted in the traditions of mural-making, to create art that transforms public spaces and individual lives. Mural Arts engages communities in 50–100 public art projects each year, and maintains its growing collection through a restoration initiative. Each year, 15,000 residents and visitors tour Mural Arts' outdoor art gallery, which has become part of the city's civic landscape and a source of pride and inspiration, earning Philadelphia international recognition as the 'City of Murals.'"
Completed late last year, after some lengthy delays due to the Covid-19 Pandemic, this mural is ready to shine bright as the sunny days of spring arrive. Located close to Temple University, we know this colorful addition to our building will bring smiles to the many commuters who pass by on Allegheny Avenue, to students, and to the local residents who call this area home.
To learn more about Mural Arts Philadelphia, visit their website at www.muralarts.org.
About Compass Self Storage
Compass Self Storage helps to provide great self storage to every community we serve. With storage facilities across the United States, we provide everything from small 5×5 storage units to extra-large storage units, business storage solutions, and even RV and vehicle storage. We're proud to have decades of experience in the self storage realm, and we're happy to provide storage in Philadelphia and elsewhere to all who need it—whether you're looking for a short-term or long-term storage solution.
Storage Facility in Philadelphia, PA
At our Allegheny Avenue storage facility, you'll be able to find a wide selection of convenient storage units in Upper North Philadelphia.
A selection of small, medium-, and extra-large storage units
Climate-controlled storage for those cold Philadelphia winters
Drive-up storage for easy accessibility
Covered loading and unloading bays
Moving carts available for use
And more
For more information about our Philadelphia storage facilities, contact us today.