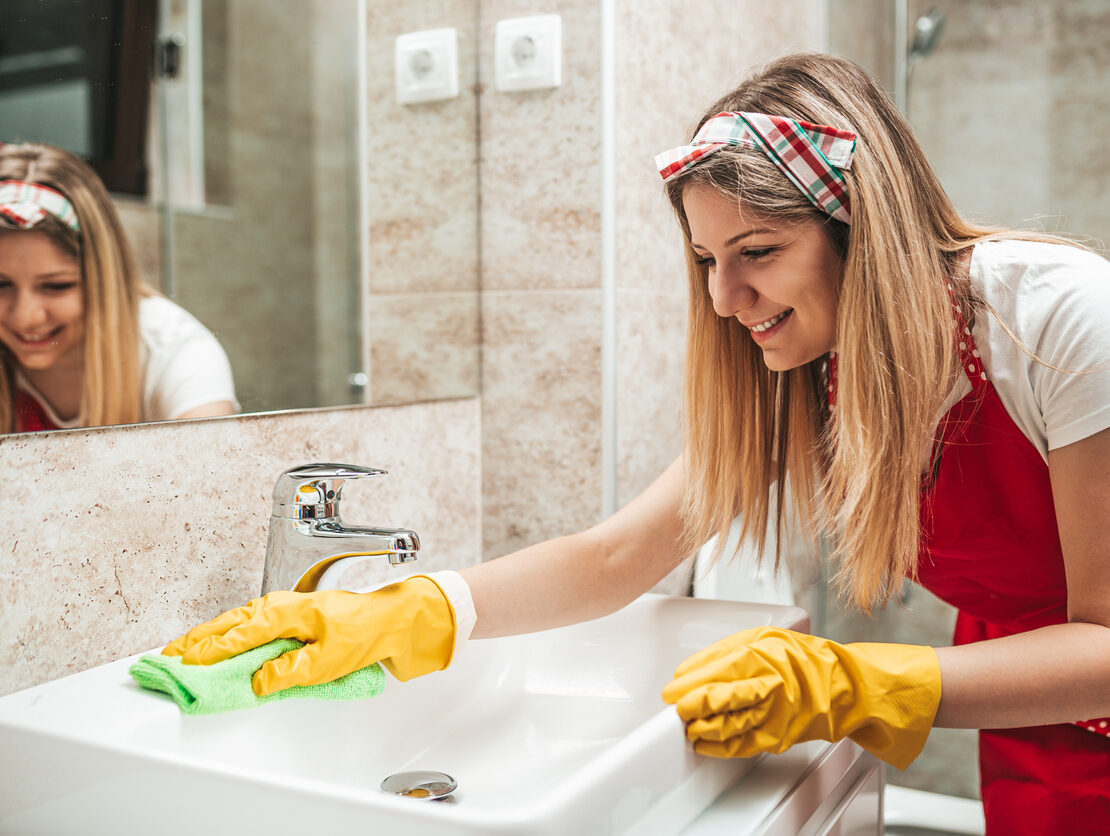 Spring has sprung, and the flowers have bloomed. You know what that means: It's a great time to take a deep dive in your spring cleaning! Follow this cleaning guide for a fresh start in your home before summertime.
1. Stick to a schedule
Start by marking your calendar and setting some time aside for each room. Begin with the room that matters to you the most and create a checklist by writing out your goals. For example:
Living Room – Monday Morning

Vacuum, dust, polish wood, and clean windows

Kitchen – Tuesday Afternoon

Clean out fridge, organize pantry, disinfect counter space, and polish silverware

Bathroom – Tuesday Afternoon

Clean bathtub, sinks, toilet, and throw out any old cosmetics

Bedroom(s) – Thursday Morning

Vacuum (including under the bed), clean dust from ceiling fans, and wash bedding

Closets – Saturday and Sunday

Throw away or donate items you no longer use. Organize each closet in your home and consider storage for items to declutter further
2. Get your cleaning supplies ready
After you create your cleaning schedule and checklist, make sure you have all the necessary cleaning supplies. You certainly don't need to go out and purchase too many cleaners, but make sure you have the essentials ready. This can include products such as an all-purpose cleaner, gloves, sponges, bathroom cleaner, microfiber cloth, and wood cleaner.
3. Outdoor spring cleaning
Cleaning the exterior of your home can be just as important as the interior. Depending on the size of your yard or garage, you may want to schedule time for your exterior cleaning similarly to your interior. Some areas you should focus on include: sweeping your porch, landscaping (trimming down trees and bushes and cutting the lawn), cleaning out your gutter, washing windows, and cleaning out/decluttering your garage.
4. Declutter and get organized by storing your extra items
After everything is cleaned and organized, you may find you have extra items you still want to keep but may not use at this time. For example, seasonal items such as holiday decorations can take up a lot of useful closet or garage space. If you find you have items that fall under this category, a storage unit can help you clear out space and get organized.
5. Make sure you are bringing in fresh air to your home
Finally, it's important to check to see if you need to replace your furnace and HVAC filters since air conditioner ducts tend to accumulate dust during the winter. Many people also suffer from allergies in the spring, so bringing in an air purifier in rooms that are used the most can be beneficial.
Looking for storage space after your spring cleaning? We're here to help! Contact a Compass team member near you.