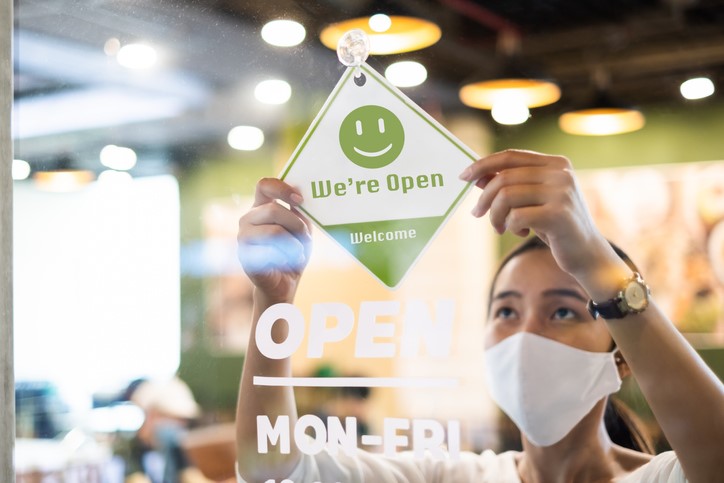 When reopening your restaurant during the era of COVID-19, it's important to follow the Centers for Disease Control and Prevention restaurant and bar guidelines for the safety of all your employees and customers. Here are some best practices to keep in mind before reopening:
Follow Social Distancing Guidelines in Your Dining Area
To follow CDC guidelines properly when reopening, you may find your restaurant or bar has extra tables and chairs from limiting seating and ensuring guests are six feet apart. To free up space in your dining area and encourage social distancing, consider stashing away these unnecessary items in storage for the time being.
Display the Proper COVID-19 Signage 
Display signs that communicate expectations for employees and customers to follow. The signs should be both informative and friendly, especially in highly visible locations such as entrances and restrooms. Your signs should also inform ways to stop the spread of COVID-19 when communicating with customers and staff. This includes placing tape on the sidewalk or ground spaced six feet apart where lines of people may form.
Follow Food and Safety Guidelines
Monitoring employee hygiene is always important to enforce. Make sure employees are washing hands frequently and sanitizing work areas, especially where food is prepared. Make it a requirement that all employees wear a mask and, if possible, provide employees with masks. For restaurants and bars that have any self-serve options such as drink stations, close off these areas to minimize customer contact.
Clean and Sanitize Frequently
Sanitize all surfaces—especially those with frequent contact—and provide plenty of sanitation supplies to customers and employees. Try to offer sanitation supplies at every table so customers always have easy access to hand sanitizer, wipes, and trash bins to discard these items. Communicate disinfecting procedures with all employees before reopening your bar or restaurant.
Check the CDC website for more information on how to safely re-open your business.
Looking for storage space for your restaurant reopening? We're here to help! Contact a Compass team member near you.