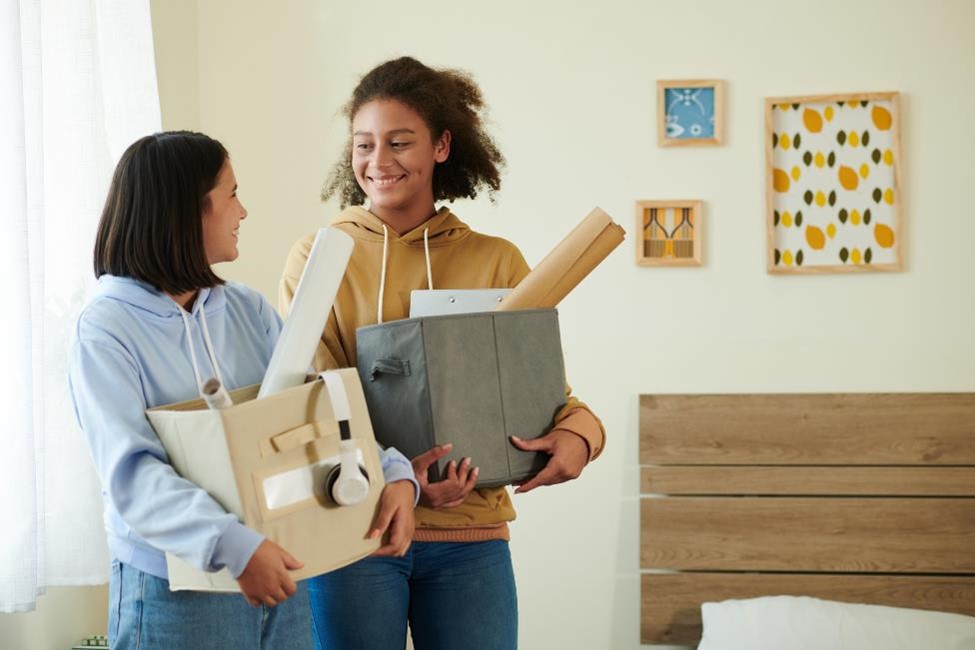 Preparing to start your first year of college can be a very stressful few months. With limited information on your dorm room and layout, many incoming freshmen are left unsure on what they really need to bring with them on move-in day. A good place to start is the recommendation list that your school or university may have available on their website, but these lists are often short. It is essential to only bring what you can fit in a small dorm room, but enough to be comfortable and prepared.
Bedding
Sleep is extremely important in college, so a comfortable bed is a necessity. Don't forget standard bedding items like twin xl sheets, pillows, pillowcases, and a comforter. Also, dorm mattresses are notoriously stiff, so a plush mattress topper on a size twin XL can allow for much better sleep. Think about adding an additional blanket as you often cannot control the temperature of your room.
Storage
Dorm life is all about making the most of the small space you are given. One great option for storage is under your bed. Many colleges and universities allow you to raise your bed a few feet off the ground, leaving open space underneath to store miscellaneous items. Long storage bins and drawers can be stacked on top of each other or place side by side under your bed for maximum storage. Another great storage option is a storage ottoman with room inside for items including food, clothing, and blankets. Storage ottomans also double as a step onto raised bed, and as a seat for guests in your room. Foldable fabric bins are one other way to keep all your items organized and stored away.
Cleaning
Dorm rooms can get dirty quickly since they are such small spaces. Disinfecting wipes are a great product to keep on hand and offer an easy way to clean your room. Paper towels are also essential for small clean-ups, along with a handheld vacuum for the crumbs and dirt that is bound to end up in your dorm. If you have a kitchen or plan on keeping reusable cups, plates, etc., buy dish soap to clean those items between uses.
Laundry
As a busy college student, your clothes will get dirty which makes liquid or pod detergent and dryer sheets essential items. Since the closest laundry facility may be in a different building, you will need some form of bag or basket to carry your clothes to and from the washers. Irons and ironing boards take up lots of space, so consider a wrinkle spray to keep your clothes looking their best. An instant stain remover is an easy way to quickly remove any small stains while on the go. Finally, while many schools are switching to a card payment system, some schools still require quarters for doing laundry, so make sure to have some available just in case.
Food and Cooking
While most freshman are required to purchase a meal plan, having food options in your room is important for times you don't want to walk to the dining hall or need a late-night study snack. Non-perishable food is best, for example, Ramen, chips and cereal. Chip clips, Ziploc bags, and Tupperware can all keep your food fresh. If you are a big coffee drinker, a single-cup coffee maker allows for quick and easy coffee without leaving your room. Plastic cups, bowls, and utensils, or their disposable alternatives, are versatile options for any food. A reusable water bottle and insulated drink tumbler allow you to carry drinks like water or coffee around with you from class to class. Make sure to check your school's cooking electronic policies because many items like toaster and full-size coffee pots are prohibited.
Bath
Majority of freshman have communal bathrooms shared with other people in their dorm, so portable toiletries are essential. If you have a communal bathroom, bring shower shoes to protect your feet, and a shower caddy to transport your toiletries to and from the bathroom. A robe is also a great way to cover up while to and from the showers. If you have a private bathroom, you will need a shower curtain, a bathmat, bathroom cleaner and toilet paper. In both situations, towels, small washcloths and your everyday toiletries are all important.
Electronics
With more and more aspects of the world becoming digital, there are some electronics you should pack for college. A laptop is a game changer in the classroom environment and helps with note taking, homework and studying and can also be used for entertainment like watching Netflix. Don't leave behind chargers for any electronics and bring extension cords and power strips since most dorms only have a few power outlets.
Desk and School
A majority of your time will likely be spent on schoolwork, making various school supplies extremely helpful. A sturdy backpack allows you to carry items around campus, and a few notebooks and folders are essential for taking notes and staying organized. Most dorm rooms have a desk in them, so bring a bright desk lamp to illuminate your work, along with items like scissors, tape, pens and pencils.
Clothing
You do not need to bring all of your clothes to school, as closet space is limited, so stick to your favorites! Be realistic about what you will wear every day; if you wear sweatpants every day at home that will likely not change at college. If you will be traveling home at all during the school year, you can use that as an opportunity to change out your clothes for a new season.
Décor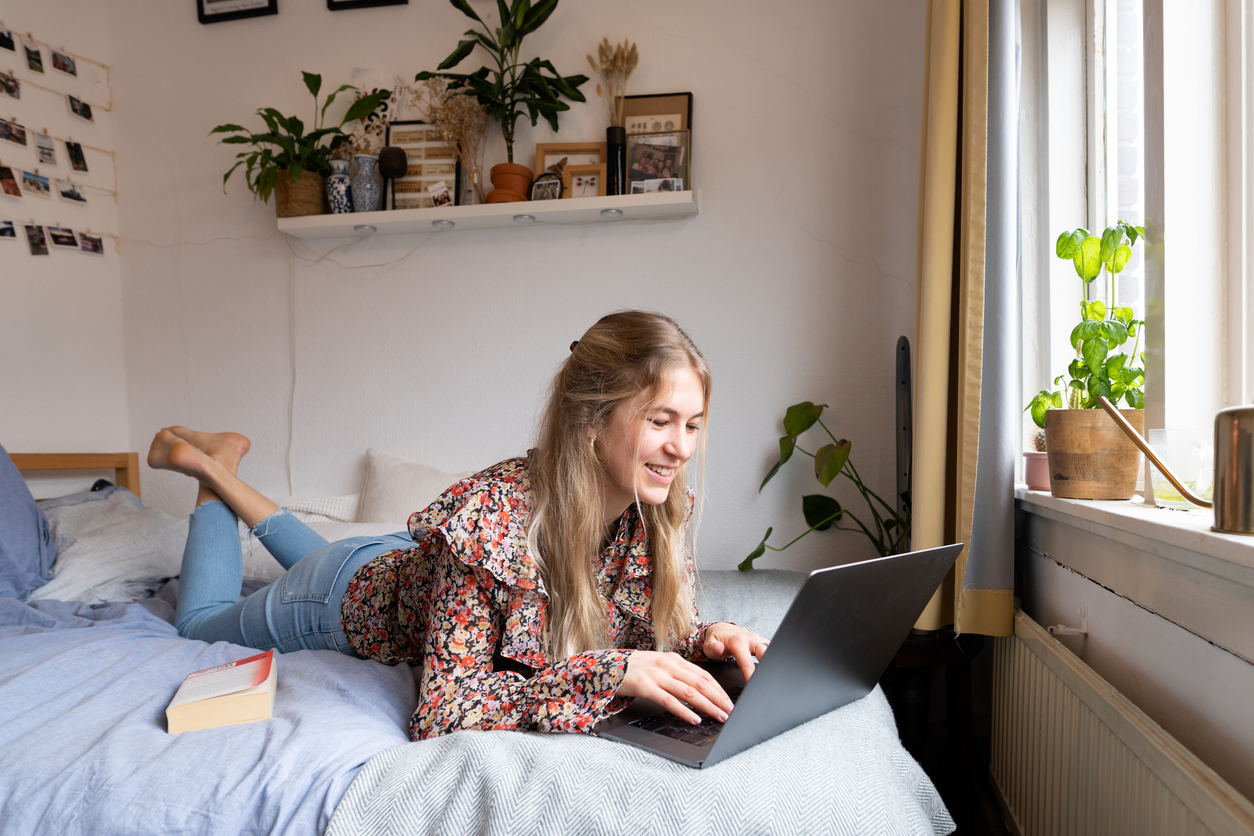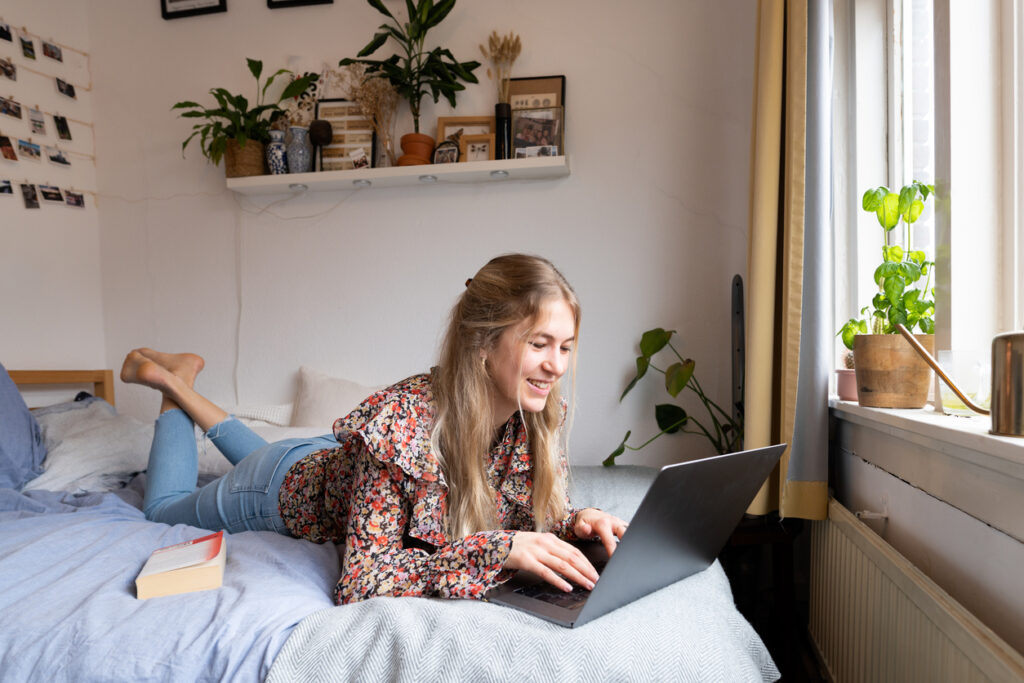 It is important to make your dorm room feel personalized and remind you of home, especially if this is your first time living away from home. Photos of friends and family are an easy way to customize your room and incorporate the people that you love. Posters can also add color and personality to your walls, but be careful hanging them, as most schools have hefty fines for damaged walls. Consider bringing Command Hooks to stick to the walls instead of nails. Throw pillows can also be a good addition to your dorm room, but keep the amount limited as the beds are not large and can feel cluttered.
Items to Coordinate with Your Roommate
If you are living with a roommate, it is important to not waste space with unnecessary duplicate items. You and your roommate(s) should coordinate who is responsible for bringing shared items, such as a 5'x8' rug, a small trash bin and a Brita water filter pitcher. A tower fan can help keep air circulating through your room, and is especially important if you don't have air conditioning. Sometimes microwave and mini fridges are available in you room through your school. However, this isn't always the case so make sure to coordinate who brings which appliance to be shared.
Miscellaneous Items
Finally, there a few miscellaneous items that are worth having around. You never know when you may need extra batteries, and umbrella makes rainy days much more bearable. If you are a light sleeper, consider bringing earplugs, as dorms can get very loud. Bring important documents like your driver's license, insurance card and debit card, or at least a copy of them in case of emergency. Sickness spreads quickly in dorms, so have essential medical supplies like cold medicine, vitamins, band-aids, and ibuprofen. If you wear makeup, a makeup light can make applying products much easier in your dorm. In the end, try to stick to any items you use frequently and that will not waste your dorm space.
Get Student Storage With Compass
Need extra space between the school year or for your seasonal items that can't fit in your dorm room? Compass Self Storage offers different sized units to store your extra items, moving trucks to help move all your items to and from the dorms and packing and moving supplies to help pack up and move your items without any damage. Many of our locations also offer climate controlled spaces to help protect your items. Find your nearest Compass Self Storage facility today!