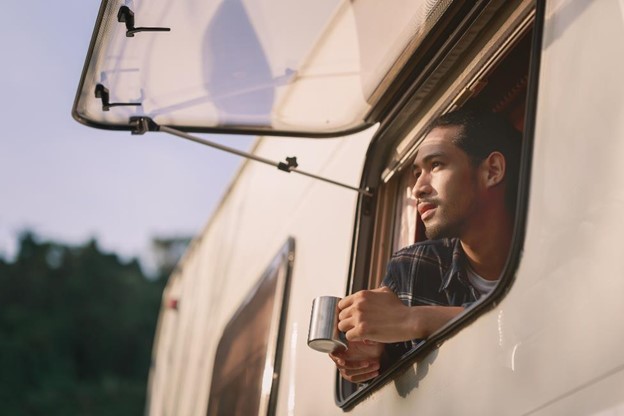 From cross-country road trips to hometown glamping in Montgomery, AL, few things compare to the joys of adventuring in an RV. No matter if you have a fifth-wheel, pop-up, or Class A motorhome, an RV is one of the simplest ways to explore the breathtaking nooks and crannies of America's landscape comfortably while fulfilling your innate wanderlust. With all that time on the road away from home, though, it can be tough to ensure you have everything you need for an enjoyable RV journey right from the get-go.
Even with a pre-trip RV checklist, there are certain instances while you're on the road or parked at a campsite when you think, "Ah, I wish I would've brought that!" or "Why didn't I think to bring that along?" Fortunately, Compass Self Storage can help ensure you have everything you need for your RV trip from start to finish—including advice on a few RV camping must-haves and a place to store your motorhome during the off-season.
Must-Haves for RV Camping
Whether you're planning a long-haul tour or simply going camping for the weekend, making sure you have all the essentials is crucial for a fulfilling journey. While you might have the basics taken care of on your pre-trip checklist—such as food, drinks, cooking utensils, a full propane tank, firewood, a GPS, leveling blocks, and more—there are certain gadgets and tools you might not have thought of prior to pulling out of our driveway.
Long-Haul Journey Must-Haves
Paper Maps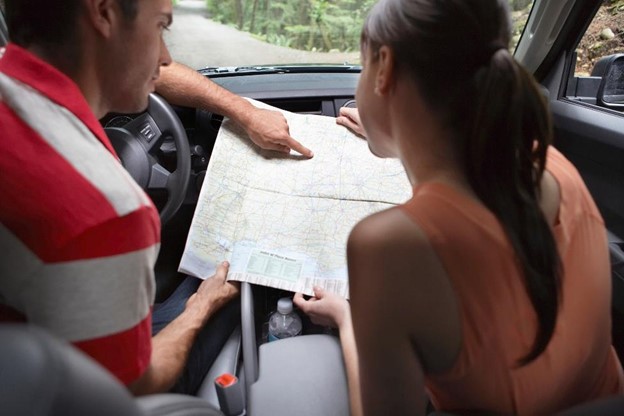 Living in a technology-driven world, most of us have access to smartphones, tablets, or computers that have GPS functionality. Additionally, there are many cross-country RVers who use standalone GPS devices to navigate their way throughout new locales. However, what happens when you don't have a signal or lose power to your devices?
To ensure you don't end up stranded in the middle of nowhere, it's crucial to have a good ol' fashioned paper map tucked away in your glove compartment. Paper maps can come in handy when power is down or when your GPS has a difficult time directing you off the beaten path.
Portable Solar Panels
While investing in RV rooftop solar panels is an expensive endeavor, purchasing a small, portable solar panel with a battery charging station is a wise investment. Rather than running the battery dry in your RV charging your smart devices, you can charge up your solar panel while lounging at a rest-stop, campsite, or while you're exploring a hiking trail. Most portable solar panels can be attached to a backpack too, making it simple to charge your device while on the go.
Walkie-Talkies
During your cross-country trip, you're liking going to run into areas where cellphone service is at a minimum or simply non-existent. Rather than trying (and failing) to communicate with your family members or friends via your phone, you can always rely on the connection between two-way radios. These walkie-talkies are the perfect tool to use to help with difficult parking spots or when you and your co-campers are split up.
Weekend Journey Must-Haves
Solar-Powered Lanterns
There's nothing worse than trying to use a flashlight, headlamp, or cell phone light when navigating a campsite after dark. Whether you're cooking up late-night s'mores by the fire or searching for a nearby tool, solar-powered lanterns are an inexpensive way to light up the night—especially if your RV doesn't have outdoor lighting.
After they've charged in the sun all day, you can set them on a nearby picnic table or find your way to the nearest restroom with ease. There are even RV-attachable solar lights!
Fire Starters
Having a campfire is a must for a fulfilling weekend getaway, but when it takes forever to get a campfire lit and roaring, it can minimize the fun and amplify stress. Rather than taking a chance on your fire-starting abilities with just a flint or lighter, you should pack a few tried-and-true fire starters that eliminate worry.
One of the simplest fire starters you can count on is petroleum jelly-soaked cotton balls (two pantry staples you probably already have in the house). Simply coat cotton balls in petroleum jelly, place them in a baggy, and toss them in your RV to use once you get to your campsite!
Spare Keys for Your Car, Camper, or RV
Sometimes the unexpected can happen during a camping trip, and one of the worst possible things to deal with is losing your keys. Whether you've lost them in a nearby body of water, while you were out hiking, or at your campsite, losing your keys can leave you feeling lost and defeated.
Rather than worrying about what you would do if you lost your keys, make sure to bring spares to all lockable machines. Where should you keep your spares so they stay safe? Purchase a magnetic key lockbox that can be housed underneath the wheel well of your car, camper, or RV.
Backup Toolkits for Any Journey
Having an RV toolkit is a no-brainer for any trip you take, but sometimes it can be easy to leave behind tools that would come in handy during times of need. A few tools you should always bring for just-in-case scenarios include:
Duct tape
Extra batteries for gadgets or devices
Weather radio
Bungee cords
Superglue
Rope
Rags
Gloves
Trash bags
First-aid kit (including allergy medications and anti-inflammatories)
Tarp
Waterproof lighter or matches
Bug spray
Shovel
Flashlights
Montgomery RV Storage When You Need It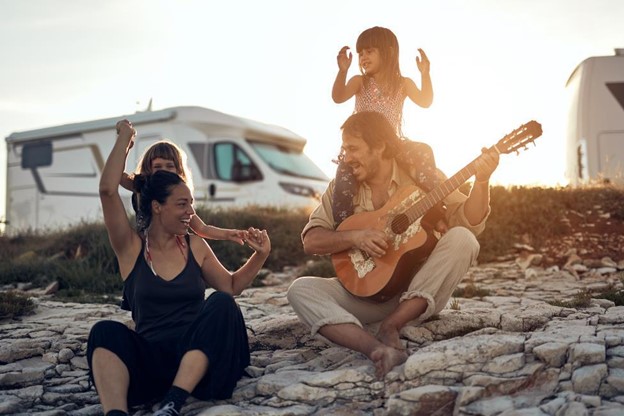 At Compass Self Storage in Montgomery, AL, we have RV storage whenever you need it. Whether your RV is taking up valuable space in your driveway or you simply need a secure place to store it during the off-season, our fully fenced self storage facility will give you peace of mind while your motorhome is out of sight. Plus, if you ever need to access your camper, pop-up, or fifth-wheel, we provide our tenants 24-hour access so you can be ready for your next excursion.
Compass has two storage facilities in Montgomery:
Park Your Motorhome at Compass Today
Regardless if you're a seasoned road tripper or an RV newbie, these must-have essentials are crucial to ensuring you are prepared for the unexpected. Plus, when your weekend journey of travel season comes to a close, Compass Self Storage in Montgomery is here to help you store your RV while saving space at home. Learn more about our RV parking spaces!